I've previously reviewed the Pine64 SOQuartz here on the site and found that if you used Armbian it was a feasible alternative to the CM4. The compatibility with other IO boards varies wildly though. We've definitely seen mixed experiences using the CM4 Blade when using the SOQuartz for example.
I was curious if I got a hold of one of the official Pine64 SOQuartz Blade boards if the experience would be better. Today we will review the Pine64 SOQuartz Blade IO board and see how well things are working at time of writing.
Let's begin!
Hardware Used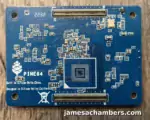 The Pine64 SOQuartz has a 1.8GHz ARM Cortex-A55 processor as well as a Mali-G52 Bifrost GPU. Onboard ram is LPDDR4 and has variants of 2GB, 4GB and 8GB available.
Links: Pine64.com, Amazon.com*, AliExpress.com*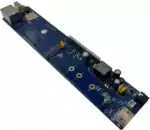 The Pine64 SOQuartz Blade is an official Pine64 expansion board meant to provide a 1U compatible Blade-size I/O board (very useful for data centers as well as clusters).
Links: Pine64.com, Amazon.com*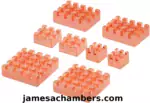 Specifications
These are from the Pine64 wiki page here.
SOQuartz BLADE Baseboard Dimensions: 200mm x 40mm x 15mm
Input Power:

DC 12V @ 3A 3.4OD/1.3ID (IEC 60130-10 Type E) Barrel DC Jack connector
PoE

Storage
microSD – bootable, support SDHC and SDXC, storage up to 2TB
USB – USB2.0 Host port (with header for setting OTG ID pin)
Expansion Ports
2×20 pins "Pi2" GPIO Header
M.2 slot
PWM fan header
Jumpers
OTG ID jumper
GPIO voltage, select 3.3V or 1.8V
PoE Enable
Build Quality
Let's start with the packaging. The blade ships in a clear hard shell like this:

Everything is wrapped in an anti-static bag. I've mentioned it before in my other reviews but I'm really happy to see all of the manufacturers moving away from shipping these in little boxes like Raspberry Pis used to/still are. They always got crushed. This will make it to you intact.
Now let's take a look at the blade itself:

Here you can see where we mount the M.2 NVMe drive. We can also see a jumper labeled USB_OTG_ID.
There's a fan connector on the right hand side of the blade as well as a HDMI port. SD Card slot, UART and a USB 2.0 port are on the left as well as the PoE Ethernet port.
Now let's look at the bottom of the board:

As you can see there isn't much to see on the bottom here. It's well built and sturdy like all Pine64 devices I've used.
Testing the Blade
I first prepared a SD card on it with the Armbian image available from the Pine64 wiki here. Next I took the SD card and put it in the Pine64 Blade. I connected the HDMI as well as a keyboard and then plugged in a network cable connected to a PoE port to see of it would power itself purely from the Ethernet connection.
Here was the result: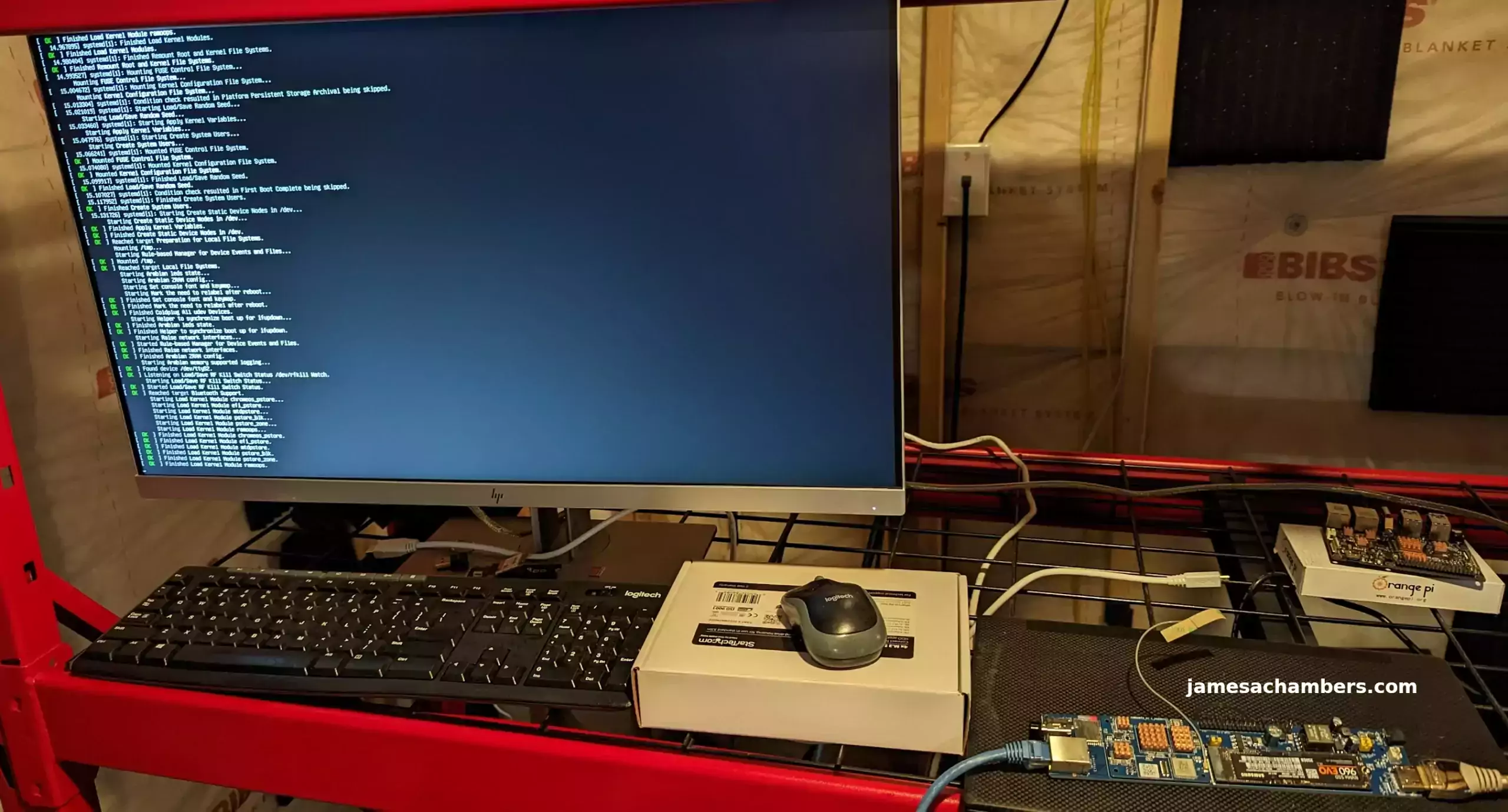 Excellent, no power cords! Everything worked the first try. The WiFi is working but you must have the external antenna attached like I do in the picture. It won't work well without it.
I went through the initial Armbian configuration and finally it's time to test some NVMe performance with the SOQuartz!
Performance Benchmarking
You can verify the performance of your SSD on Pi Benchmarks using the following command:
sudo curl https://raw.githubusercontent.com/TheRemote/PiBenchmarks/master/Storage.sh | sudo bash
Here are the results:
     Category                  Test                      Result     
HDParm                    Disk Read                 377.76 MB/s              
HDParm                    Cached Disk Read          371.45 MB/s              
DD                        Disk Write                144 MB/s                 
FIO                       4k random read            33684 IOPS (134736 KB/s) 
FIO                       4k random write           7064 IOPS (28258 KB/s)   
IOZone                    4k read                   83772 KB/s               
IOZone                    4k write                  39826 KB/s               
IOZone                    4k random read            43358 KB/s               
IOZone                    4k random write           80605 KB/s               

                          Score: 14,559
The full Pine64 SOQuartz Blade benchmark can be viewed here on Pi Benchmarks.
This is PCIe 2.0 performance we are seeing out of the drive. This gives excellent speeds and is using true NVMe! It's not PCIe 3.0 performance but I definitely would not expect that at the price point of the SOQuartz (which the CM4 it's competing against doesn't do PCIe 3.0 either).
One of the few ways I know of to get PCIe 3.0 performance in the single board computer world right now is to jump up to a Rock 5B.
Pros / Cons
Pros
Only costs $29
Supports PoE (power over ethernet)
Supports NVMe and has a dedicated M.2 slot with mounting sizes 2230-2280
Cons
Image support continues to be lacking while Pine64 works toward mainline kernel support (use Armbian in the mean time)
Conclusion
It's not clear to me how much the kickstarter Blade is even going to cost or when it's going to be more generally available. If this is already available to buy somewhere I apologize but I legitimately couldn't find where to get one (or anyone selling one on eBay or anything like that).
EDIT 2/11/2022: This has since been made clear to me. It will be about $64 for the basic version at time of writing. The full kickstarter page can be viewed here for more details. There are different packages available for the kickstarter project intended for the CM4.
This product however is very real. You can buy it today for $29.99 from Pine64. I definitely recommend pairing it with the SOQuartz if you get one. I haven't tested it with the CM4 yet to see if everything works properly but I will do that in a future article. I'd be surprised if the kickstarter CM4 board doesn't cost more than the Pine64 SOQuartz + Blade combined.
I really like that I can use this without having to use up any of my power adapters or AC plug spots or anything else. I have plenty of PoE-enabled network ports around so it's very likely I'll continue to use the Pine64 Blade in a setup like this as a server. I may buy a larger NVMe drive to put in there like a Crucial P3 4TB drive* and make it a storage server.
If you are investigating wanting to use one for a server or multiple of these for a cluster I'd definitely recommend picking up a Blade + SOQuartz and seeing if it may serve your use case. I've had great experiences with Pine64 with my Pinecil as well as this blade and they make a lot of other cool stuff / are a great company.
The software/image support is lacking but they themselves will tell you that (and they do if you read through their wiki pages) as they are working toward mainline kernel support. That will be a glorious day for the SOQuartz and other boards they are working toward this goal for once it's ready (and from the wiki tracker they've made significant progress but you can see some things still need porting such as the fan driver). Therefore I do not recommend this for absolute beginners at this time as the image support is limited.
In other words it's still a bit early to buy in so I recommend it for developers or experienced users mostly. A lot of you out there that might be waiting or trying to get your hands on that other blade are probably more than qualified to make this work as well as I have here. If you have enough experience to be working with the Compute Module 4 though realistically you'll probably be fine using Armbian with it.
Armbian still seems to be the best choice to use with the SOQuartz (especially for people just starting out with the board) but there are other options like the Manjaro (requires USB to TTY serial console). I'd definitely recommend trying it for anyone who is comfortable with compute modules (and using a USB to TTY serial console) and has a use case for a blade setup like this!
Other Resources
Don't miss my Pine64 SOQuartz review here
I've also reviewed the Pinecil soldering iron from Pine64 here