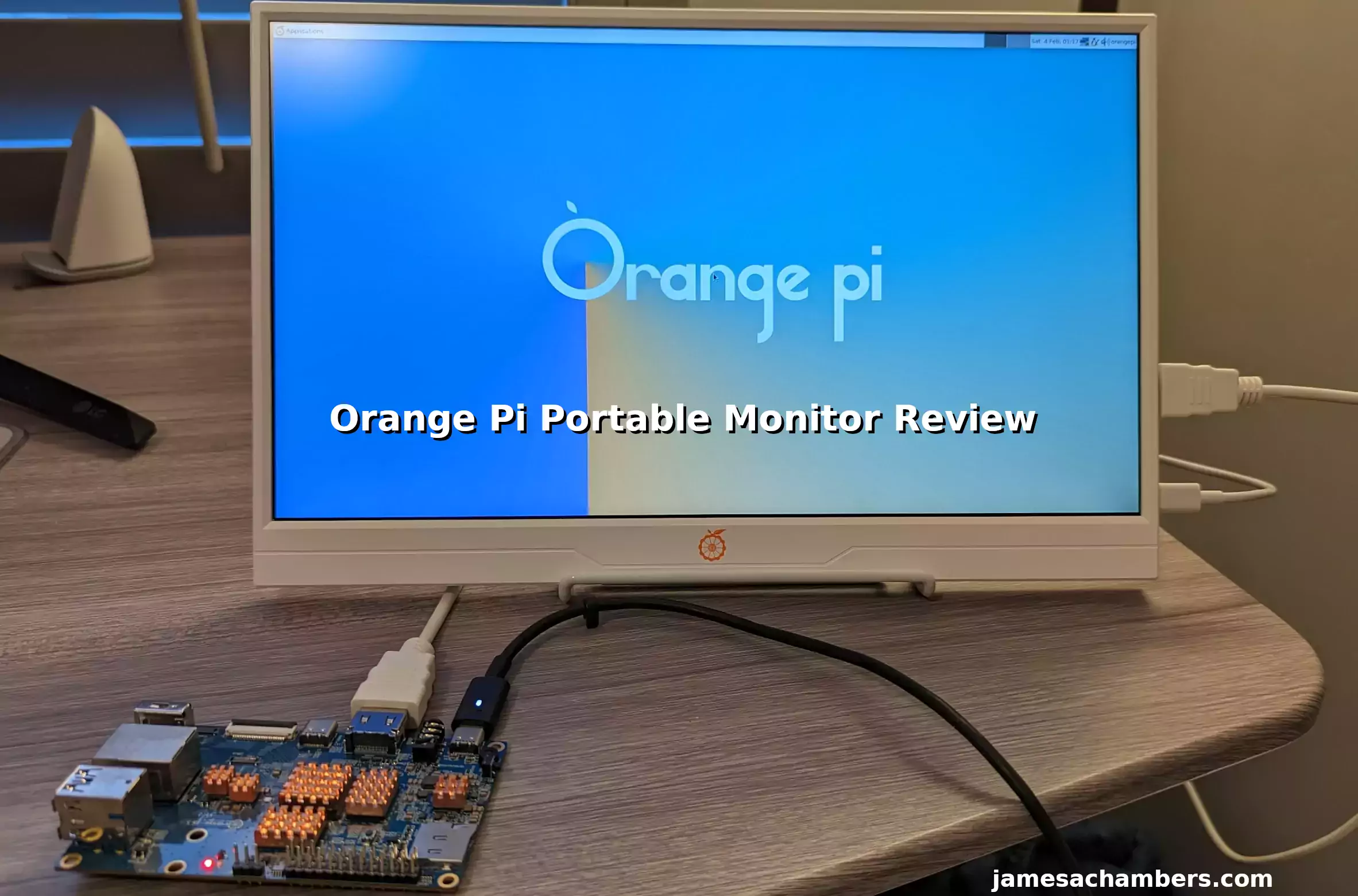 I recently ordered many of the official Orange Pi accessories for review with my Orange Pi 800 order (also coming up for review). The first of these accessories to come was the Orange Pi 14″ 1080P portable monitor. This monitor is meant to be extremely portable and have a low footprint.
Today in this review we'll take a close look at Orange Pi's monitor offering and test it with several devices. We'll examine the build quality, functionality and try to determine whether picking one of these up might be worth it for you and what situations they would be most appropriate for.
Let's get started!
Hardware Used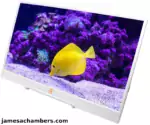 The Orange Pi monitor is meant to be a portable monitor you can take anywhere. It has a resolution of 1080P and features a hinge in the back that folds out to support the monitor.
Links: Amazon.com*, AliExpress*
Specifications
Display Size: 14 Inch
Resolution: 1920×1080
Contrast: 700:1
Brightness: 220cd/m2
Panel Type: a-Si TFT-LCD
Viewing Angle: 85/85/85/85 (Typ.)(CR≥10)
Frequency: 60HZ
Colour System: 262K , 45% NTSC
Operating Temp: 0-40℃
Operating RH: 20-80%
Input: 1 HDMI /2 USB Type-C
Stand: Iron stand
Audio: Speaker and 3.5mm earphone
Material: Rugged Aluminum, Metal, Plastic available
Dimension/DIM: 32520515(8.5)mm
CTN: 3482547.6mm
Net Weight/N.W: 550g
Gross Weight/G.W: 1150g
Packaging
The monitor arrived as it's own package like this: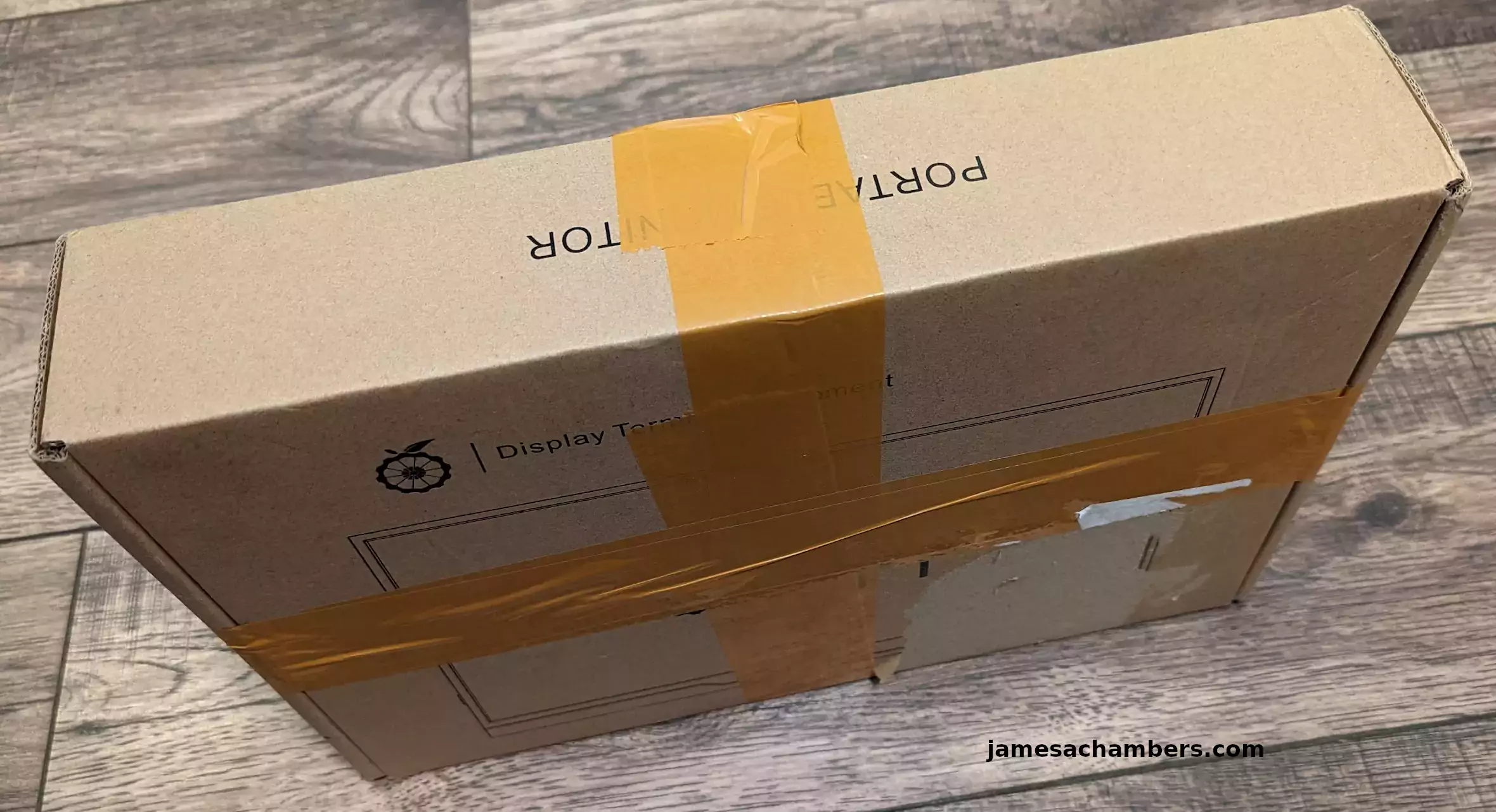 They used so much tape you can barely see what is on the box but there is some stuff you can still see. I'd rather them tape it this way and keep it secure during shipping.
Now let's see how it's packaged inside: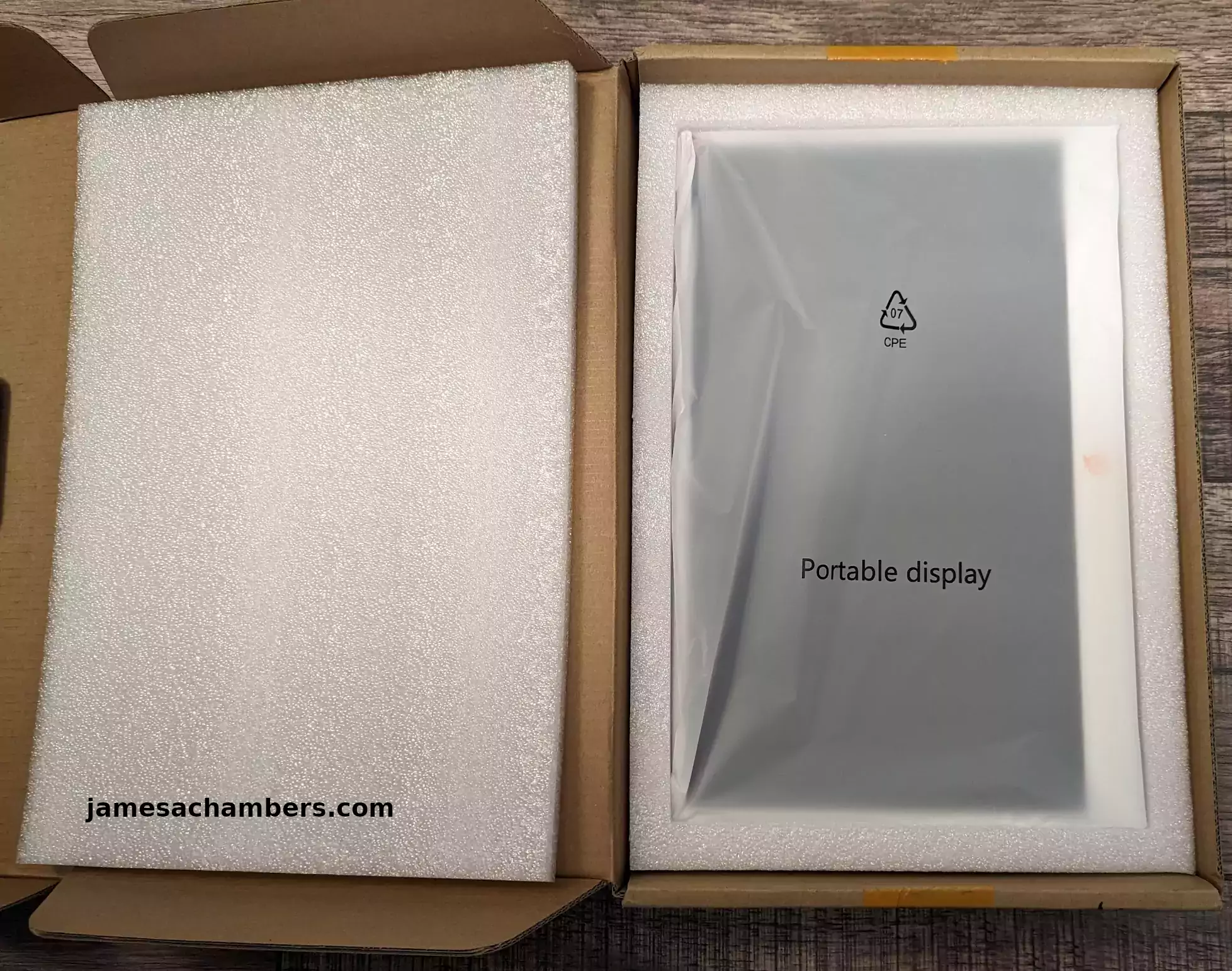 We can see here there's substantial protection inside and that the monitor is inside a sleeve. That "Portable display" writing you see in the screen above is actually printed on the sleeve. It's not text like I typed in like my jamesachambers.com on the left.
Included Accessories
If we lift the monitor out of the tray we can see all of the accessories: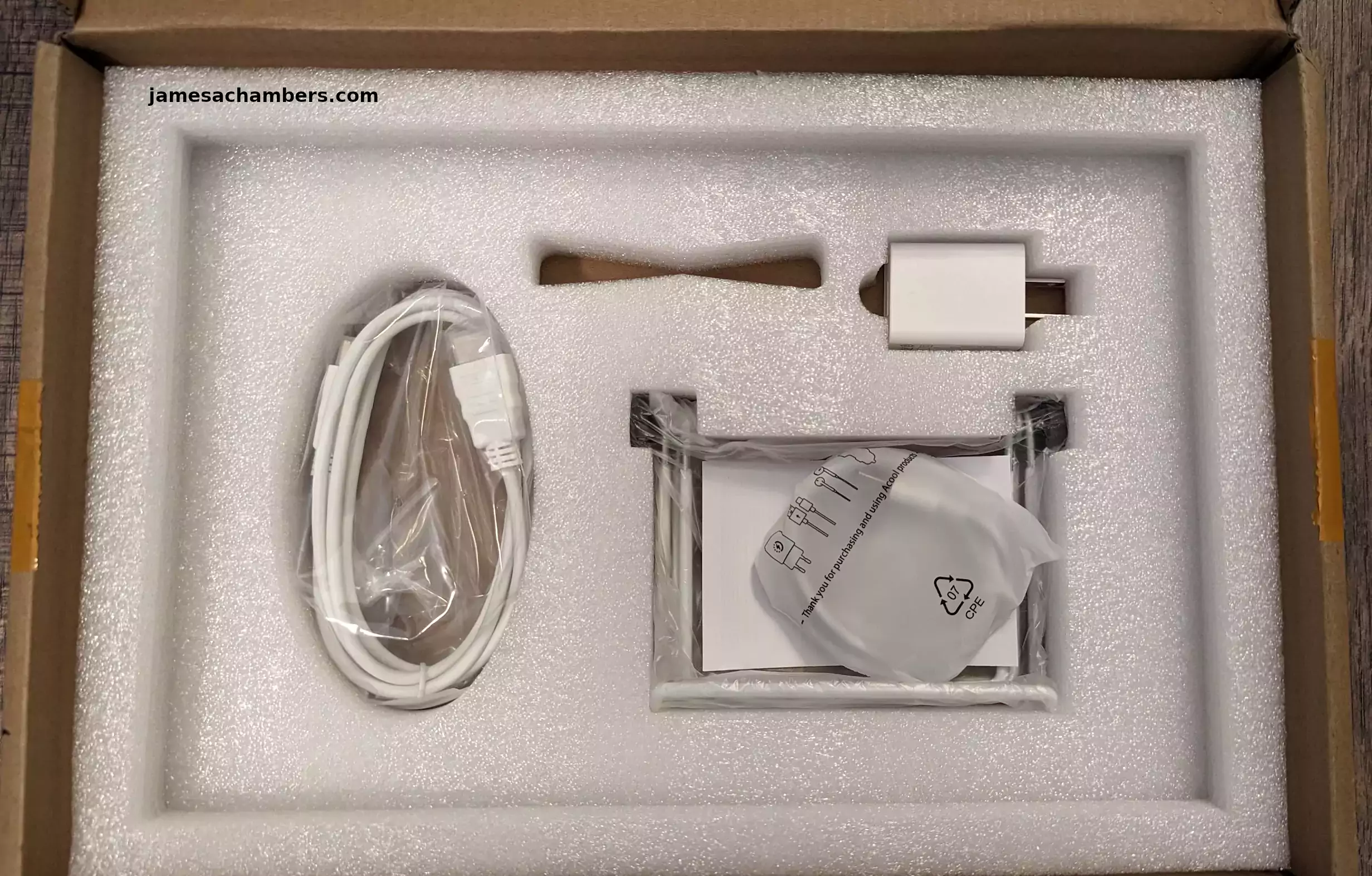 Specifically this includes:
Power adapter
HDMI cable
USB-A to USB-C cable
The stand for the back
Instruction manual
Usage
So to my surprise the hinge doesn't actually attach at all to the monitor. It's a completely independent stand that you can tighten / loosen the hinges on once you get it into a position you want it to stay in. It looks like this: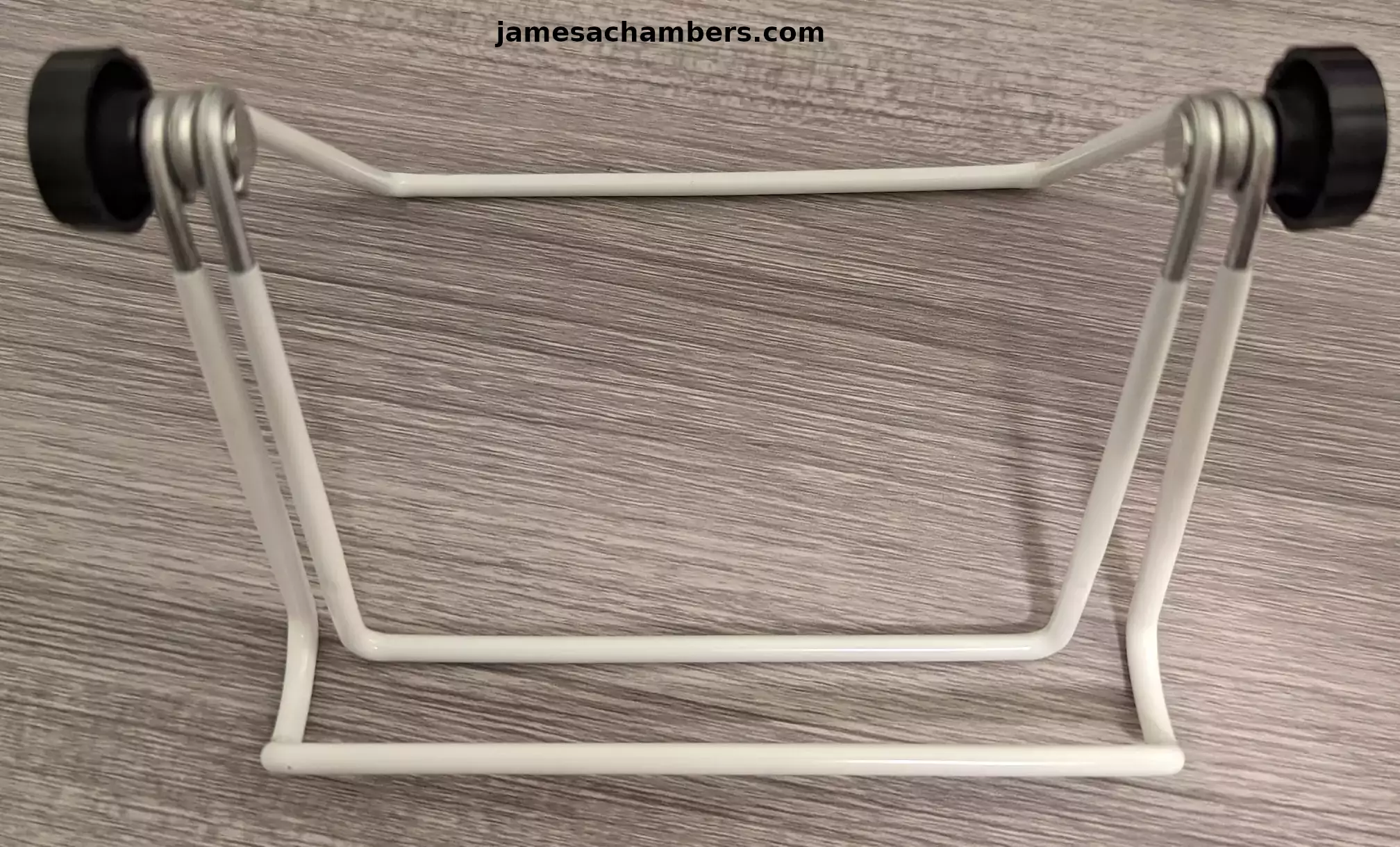 The black knobs on each side tighten the stand once it's resting in a stable position. Once it's all tightened up the monitor will rest on the stand like this: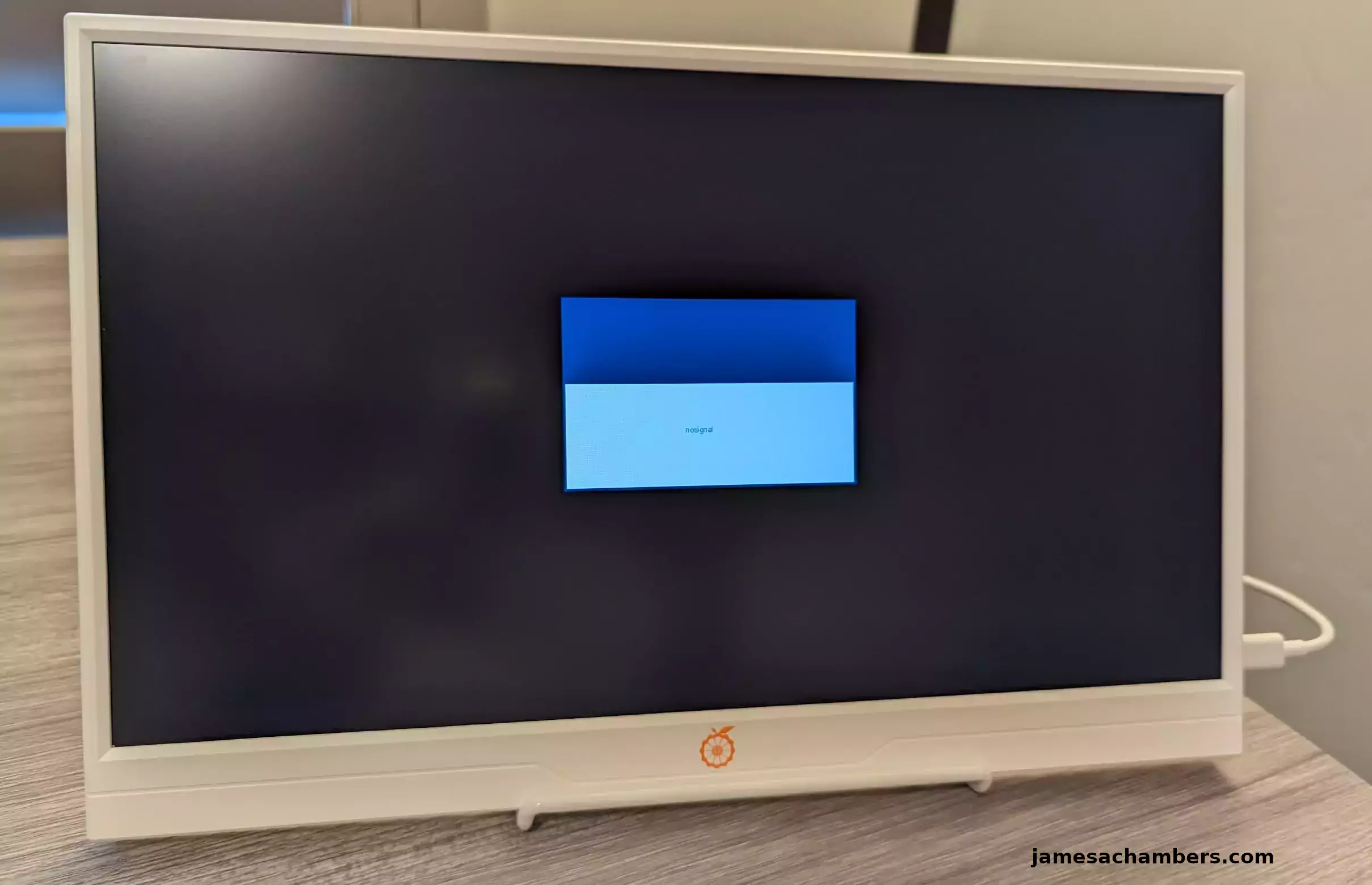 Configuration
The first thing you'll want to do when you set up the monitor is change the language. You do this by accessing the control panel: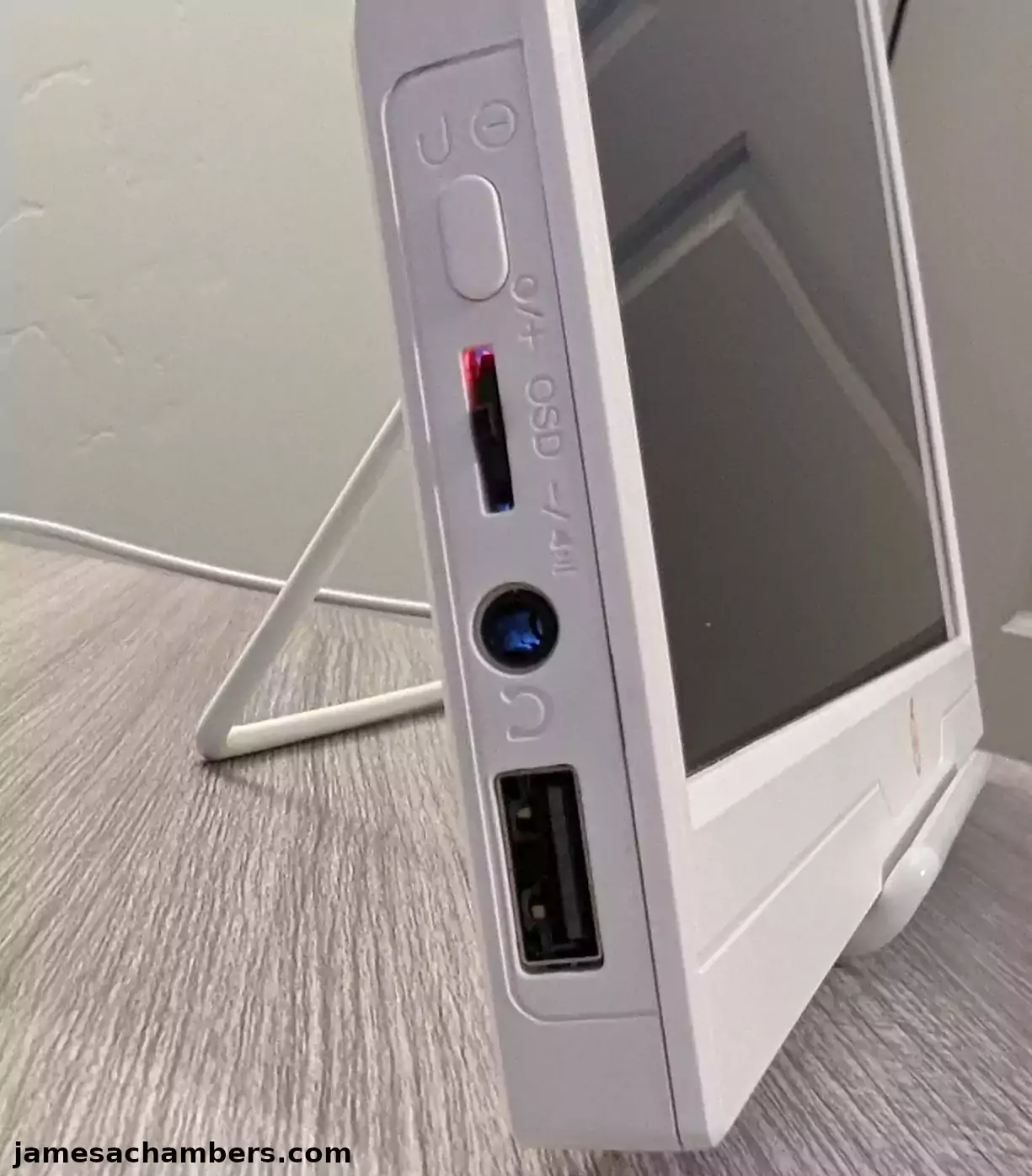 Note that one annoying thing about the monitor is you can't configure it unless there's a working display input connected. If you try to access the menu when it says "no signal" it doesn't let you navigate the menu and will go to sleep in a few seconds.
Once you've plugged in a valid input it's easy to set the language by using the OSD wheel. EDIT 2/13/2023: kprasadvnsi has shared in the comments that the monitor actually is functioning without a valid display connected. The backlight is just completely turned off. You can actually still see and use it if you hold a flashlight up to the display. Thank you kprasadvnsi!
The one review on Amazon says that the monitor will not remember your language. This is fortunately not true. I've tested unplugging the power for short and long periods of time and it does not forget my language setting. That person must have either got an earlier revision that has since been fixed or potentially they had a defective one. The setting has "stuck" throughout a couple of days of testing and I've never had to set it again.
There are a few other configuration options such as turning on HDR as well as AMD FreeSync. There's also the typical brightness and other controls you'd expect on any monitor available.
Pros / Cons
Pros
Incredibly light and portable
Cables and power adapter are included
Mount holes included on back of panel
Cons
The backlight will turn off without a valid input connected requiring use of a flashlight to see the menu
Conclusion
The monitor is available for only $65.99 on Amazon. As far as pricing goes this is one of the cheapest options out there. Try searching Amazon for "portable 1080P monitor" and you'll find that most options are well over $100. They're incredibly light. They feel and handle similarly to a tablet. The sound quality from the speakers is fairly average which I would expect at this price point but they're usable at least.
The monitor isn't just useful for single board computers. It's also great for gaming consoles. It also works plug-and-play to just plug into my PC to get additional screens that take up almost no space on my desk. I may use some of these for additional Home Assistant information displays / panels that I'll be covering on the site here as I continue to build them.
I doubt this monitor will be leaving my desk and I may pick up additional ones because they're so inexpensive (relatively speaking). They'd be great to mount as well as they already have the mount holes in the back of the device. I was very relieved to find out the monitor does indeed remember the language setting once you set it as well.
I got this monitor as a package with the Orange Pi 800 but it arrived several days earlier than the Orange Pi 800. Definitely watch for that upcoming review and I'll definitely mention how it feels to use this monitor with the Orange Pi 800.
The monitor gets a recommend for me and it's mostly on price and utility. If you need a really cheap and portable 1080P monitor this monitor makes a lot of sense to consider!
Other Resources
I've reviewed the Orange Pi 5 here which is what I have paired with it in the very first screenshot of the article