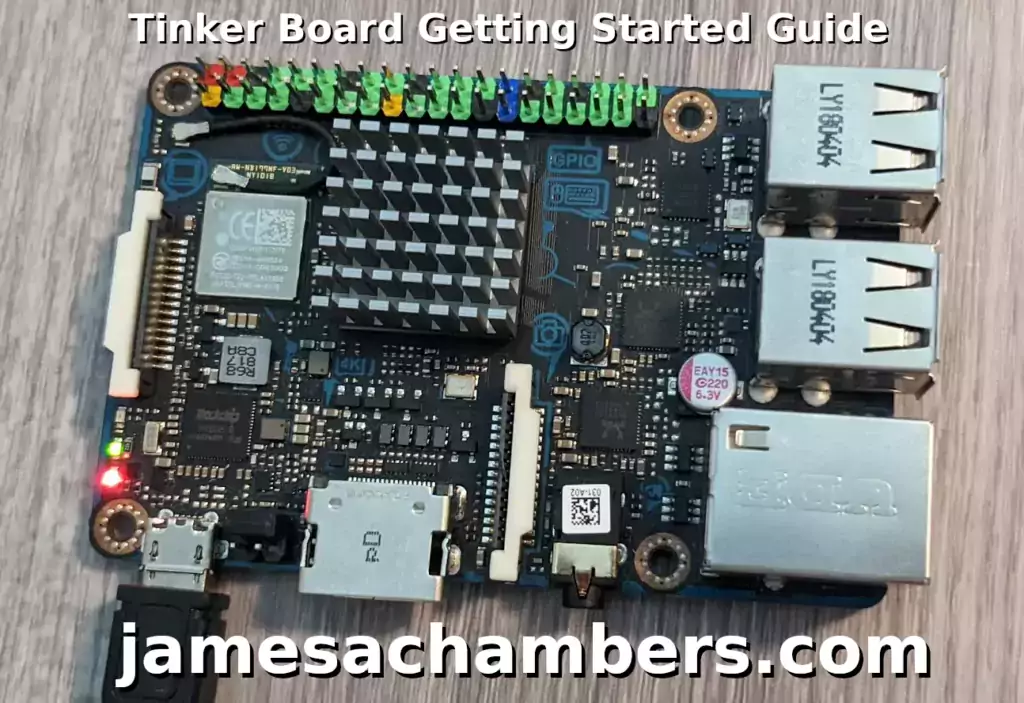 My wife got me a Tinker Board several years ago as a gift and I always meant to cover it on the site but got busy and forgot about it. Due to the ongoing Raspberry Pi shortage and high prices I've been reexamining boards from other manufacturers and found that the Tinker Board is widely available for something like ~$76. There are several more powerful versions available as well such as the Tinker Board 2S model.
Today I will correct the injustice done to the Tinker Board and cover how to get a Tinker Board all set up with the latest image and updates. Let's get started!
Hardware Used
This is the original version of the Tinker Board. It contains a 1.8GHz Quad Core CPU, a 600MHz Mali-T764 GPU and 2GB DDR3 RAM. Less than half the cost of the new version (on Amazon) and still quite capable.
Links: Amazon.com*, AliExpress.com* (S version)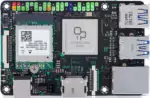 This is the fully loaded and newest version version of the board containing a 16GB eMMC as well as 4 GB of RAM. It's a 6-Core 2.0 GHz Rockchip RK3399 single board computer. Also has Bluetooth 5.0 capabilities.
Links: Amazon.com*, AliExpress.com*
Getting Tinker Board Images
First head to the official ASUS Tinker Board images download site.
Now select your model of Tinker Board from the downloads page: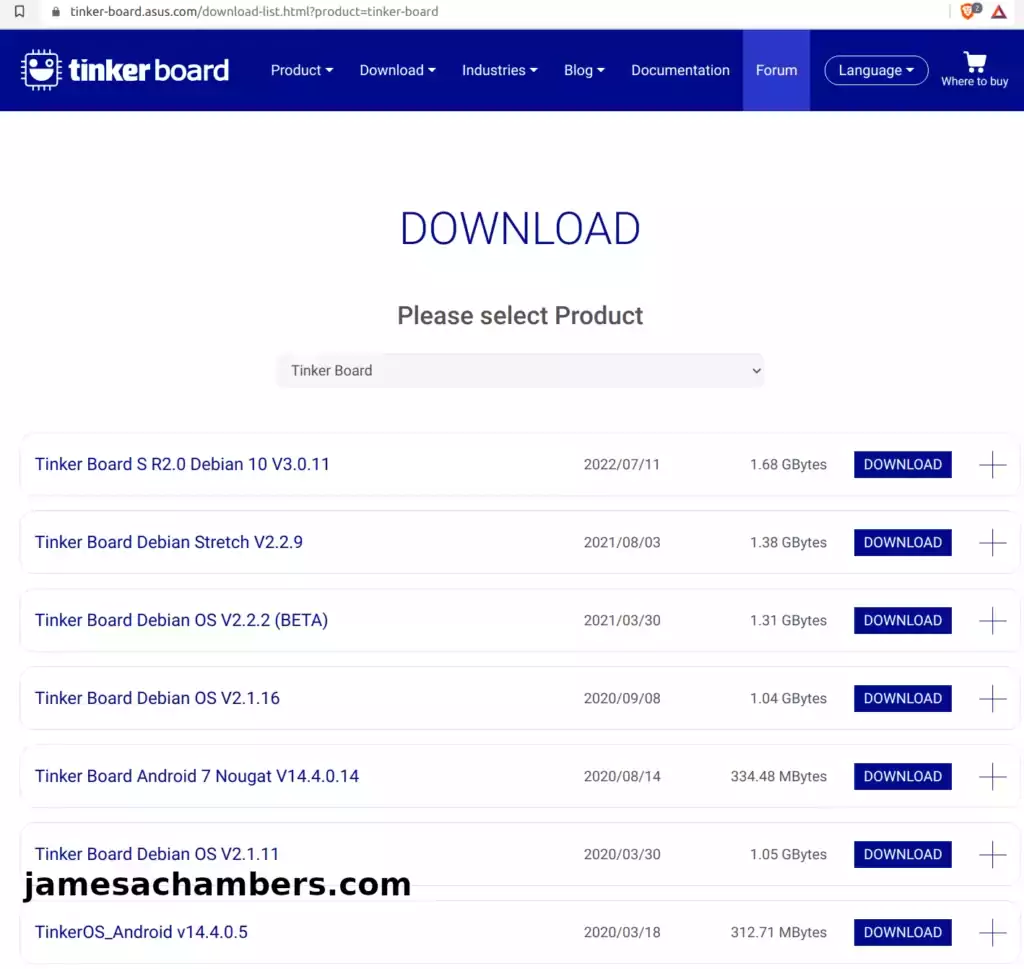 Now a quick note here. I'm on the original Tinker Board and you can see that despite that the top image choice for me is the "Tinker Board S R2.0 Debian 10 V3.0.11".
That is because that image is actually fine to use on the original Tinker Board and I actually recommend it. It's at least Debian Buster which is much, much newer than the older Tinker Board original images they have on there.
Android images are also available. I highly recommend that no matter what came with your Tinker Board or what is installed on it now that you reimage it with the latest available versions. You will have a smoother time this way.
Click "Download" once you've found the image that you want.
Alternative Image (Armbian)
If you need a newer kernel definitely try using the Armbian Tinker Board image.
This will get you all the way up to kernel 5.15.y at time of writing. That is much newer than anything the official Tinker Board images have.
Writing the Image
The download that you got in the previous section will be zipped. Unzip that file and inside you will have a file you can write to a SD card.
For this guide I chose the Debian Buster image which came as Tinker_Board-Debian-Buster-v3.0.11-20211026.zip.
After unzipping this file inside the archive I had Tinker_Board-Debian-Buster-v3.0.11-20211026.img. This is the file you are going to write to your SD card.
To write the image to the SD card you can use any number of available utilities. A common choice that is available on all platforms is Etcher.
Writing to eMMC (S and 2S models only)
If you have a Tinker Board model that has a built-in eMMC storage drive you can actually plug the Tinker Board right into your PC and image the eMMC with Etcher exactly like you would a SD card.
When you connect the Tinker Board S / 2S to your computer via USB cable the eMMC will show up as a regular drive that you can image the exact same way as the previous section.
You can also see the official Tinker Board documentation specific to writing the OS image to the eMMC here.
First Startup / Initial Login
Now that imaging is complete we're ready to do the Tinker Board's first boot. Insert the SD card if applicable and power on the device.
You can either connect a TV/monitor via HDMI or you can do it headlessly if the Tinker Board is going to be connected via an Ethernet cable as we can SSH into the device that way.
The credentials for initial login are:
User: linaro
Password: linaro
If you are using a monitor you can log in that way or if you are using SSH you would use a command like ssh linaro@192.168.X.X and log in with those credentials.
You should change your password now for the linaro user for security purposes. You can change it with:
passwd
Initial Configuration
The Tinker Board has a tool for configuration that is very similar to raspi-config if you have ever used a Raspberry Pi.
On the Tinker Board the command is:
sudo tinker-config
This will bring up the following menu: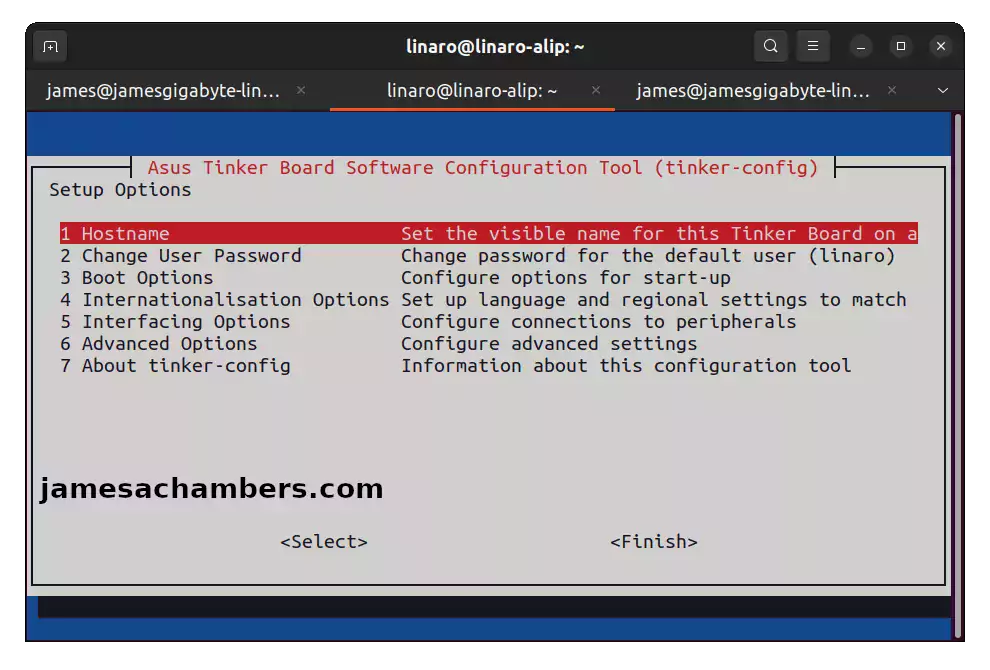 This will let you do the essential configuration for the board.
WiFi Configuration
The WiFi configuration is not available in tinker-config for whatever reason (at least on the original Tinker Board). Here is how we can configure it:
Via CLI
sudo su root
nmcli r wifi
nmcli dev wifi
This will do a wireless scan via CLI and show you the available points. You should see your WiFi access point. We can connect to it with:
nmcli dev wifi connect wifi_name password "wifi_password"
Via GUI
Click the "Start menu"-ish button in the bottom left of the screen to pull up the menu. Choose the "Preferences" section and then choose "Advanced Network Configuration":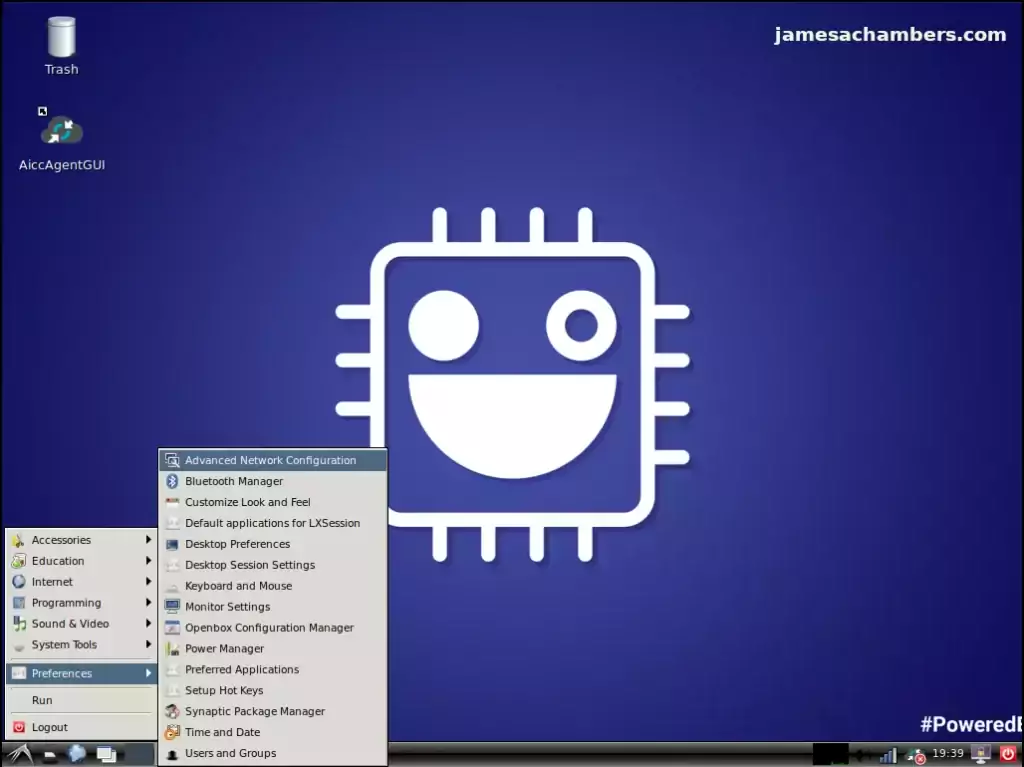 This will bring up the Network Manager GUI. Click the + button at the bottom of the screen and choose "WiFi" for the network type. Now simply type in your SSID.
Now switch to the "Wi-Fi Security" tab and choose your security type (WEP/WPA/etc.) from the dropdown menu. Enter your password.
Now simply click "Save". I did not fill out any other fields when I did my initial configuration other than the SSID and the WiFi security type and password. It immediately connected and even powering the board off and on it will reconnect to your network.
Conclusion
Congratulations, you've now configured the Tinker Board! It's pretty much ready for whatever use case you have for it.
The official kernels are still a little bit older than I'd like. Keep in mind that you can install other distros on the Tinkerboard such as Armbian.
For anyone who is reading this that doesn't have a Tinker Board and is wondering if it is an easy board to use I would say yes it definitely is. The price has fallen a lot especially on the early models and they're a pretty attractive choice right now!
Other Resources
Don't miss my Tinker Board SSD Booting guide here for how to use a SSD with the Tinker Board
Definitely check out my Orange Pi Zero 2 review if you are looking for widely available inexpensive boards
You may want to benchmark your storage on the Tinker Board using my SBC storage benchmark to verify performance