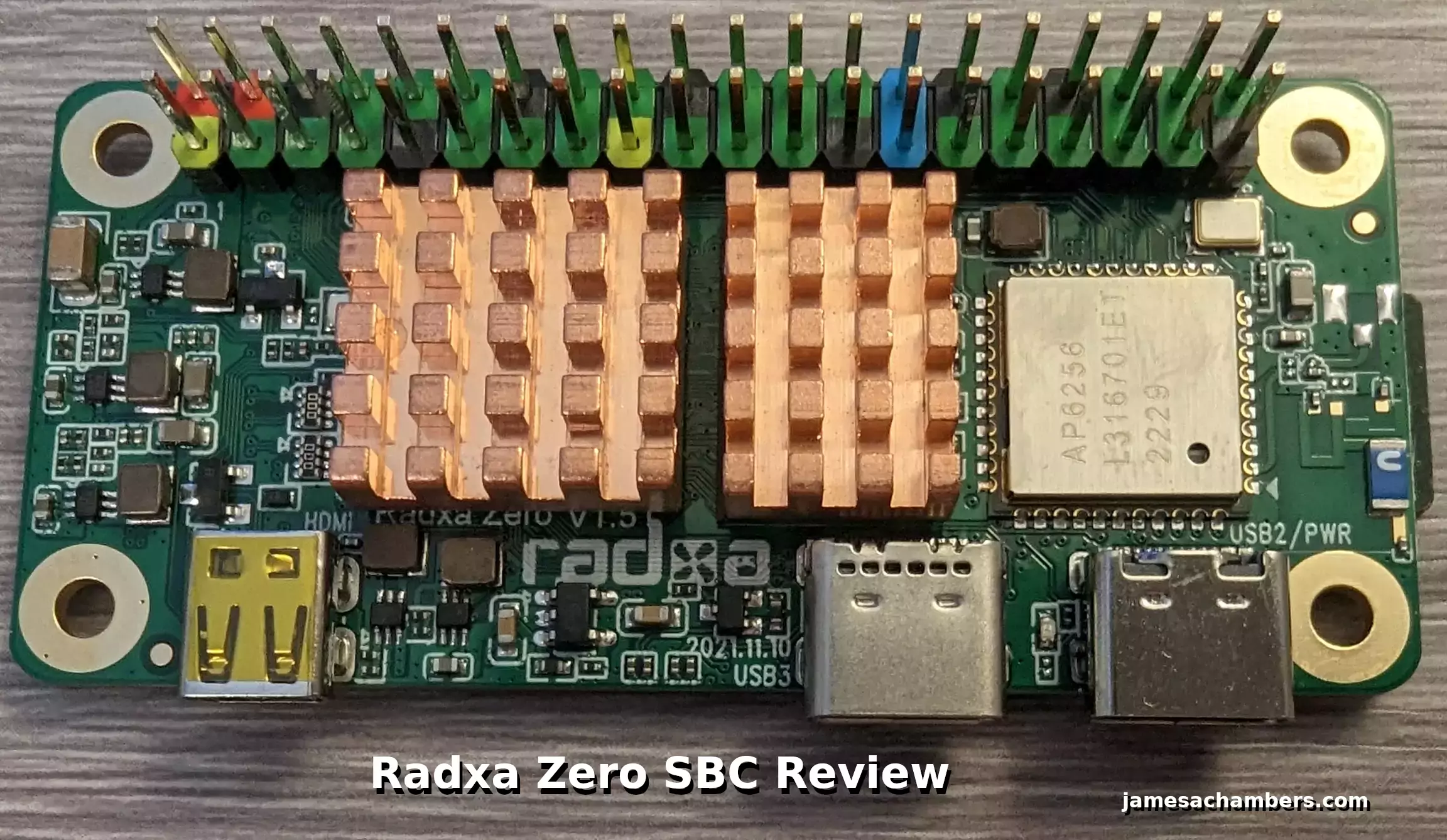 The Radxa Zero has been extremely popular since release and is still pretty hard to find on many major retailers. After trying to get it from a couple of different places I finally received mine this week!
In this review we'll dive into using the Radxa Zero including the available images, hardware capabilities and what kind of performance to expect. Will the Radxa Zero live up to how popular the board seems to be and how hard it is to get?
Let's find out!
Hardware Used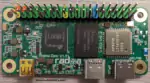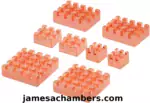 Specifications
CPU: Amlogic S905Y2 64bit quad core processor Quad Cortex-A53, 1.8GHz, 12nm
GPU: Mali G31 MP2 GPU, supports OpenGL ES 1.1 /2.0 /3.1 /3.2, Vulkan 1.1, Open CL 1.1 1.2, 2.0 Full Profile
Memory: LPDDR4 64bit dual channel LPDDR4@3200Mb/s, 1/2/4GB
Storage: eMMC 5.1 soldered high performance eMMC 5.1 with capacities of 8/16/32/64/128GB (depending on model)
MicroSD card: microSD slot supports up to 128GB
Video Decoding: HD codec H265/VP9 decode 4Kx2K@60
Display Micro HDMI: HDMI 2.1, 4K@60 HDR
Wifi/BT Antenna: Wifi/BT On Board
WIFI4/BLE4 for 512MB and 1GB models
WIFI5/BLE5 for 2GB and 4GB models
USB:

3.0 Type-C HOST x1 dedicated USB3.0 channel
2.0 Type-C OTG x1

Network (depending on the model):

Wireless 802.11 abgn wifi 2,4GHz, Bluetooth 4.2
Wireless 802.11 ac wifi 2,4/5GHz, Bluetooth 5.0

IO 40-pin expansion header:

1 x UART
2 x SPI bus
2 x I2C bus
1 x PCM/I2S
1 x SPDIF
1 x PWM
1 x ADC
6 x GPIO
2 x 5V DC power in
2 x 3.3V power in

Crypto Engine
One button
Size: 66 x 30 mm
Build Quality
The Radxa Zero is absolutely packed with components. The board is actually pretty dense and has a little bit of weight to it. Take a look at the top view of the board: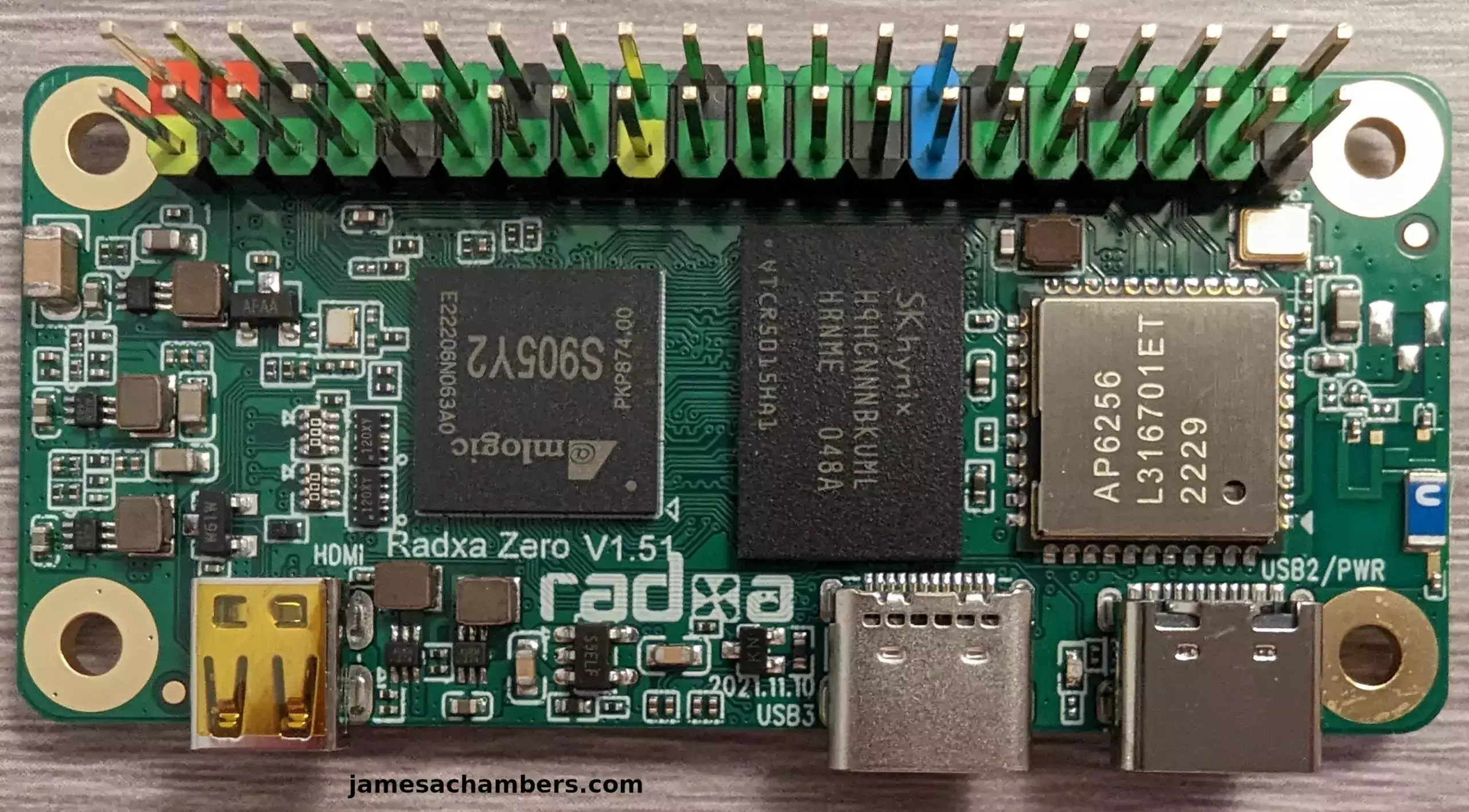 I received board revision V1.51. We can see the color-coded GPIO pins on the top here. All of the traces are clearly visible on the board.
You can also see that the Radxa Zero uses all USB-C! This is honestly what I expected the Raspberry Pi Zero 2W to look like. It's very nice to see this instead of micro USB on the board.
There definitely isn't as much to see on the bottom of the board: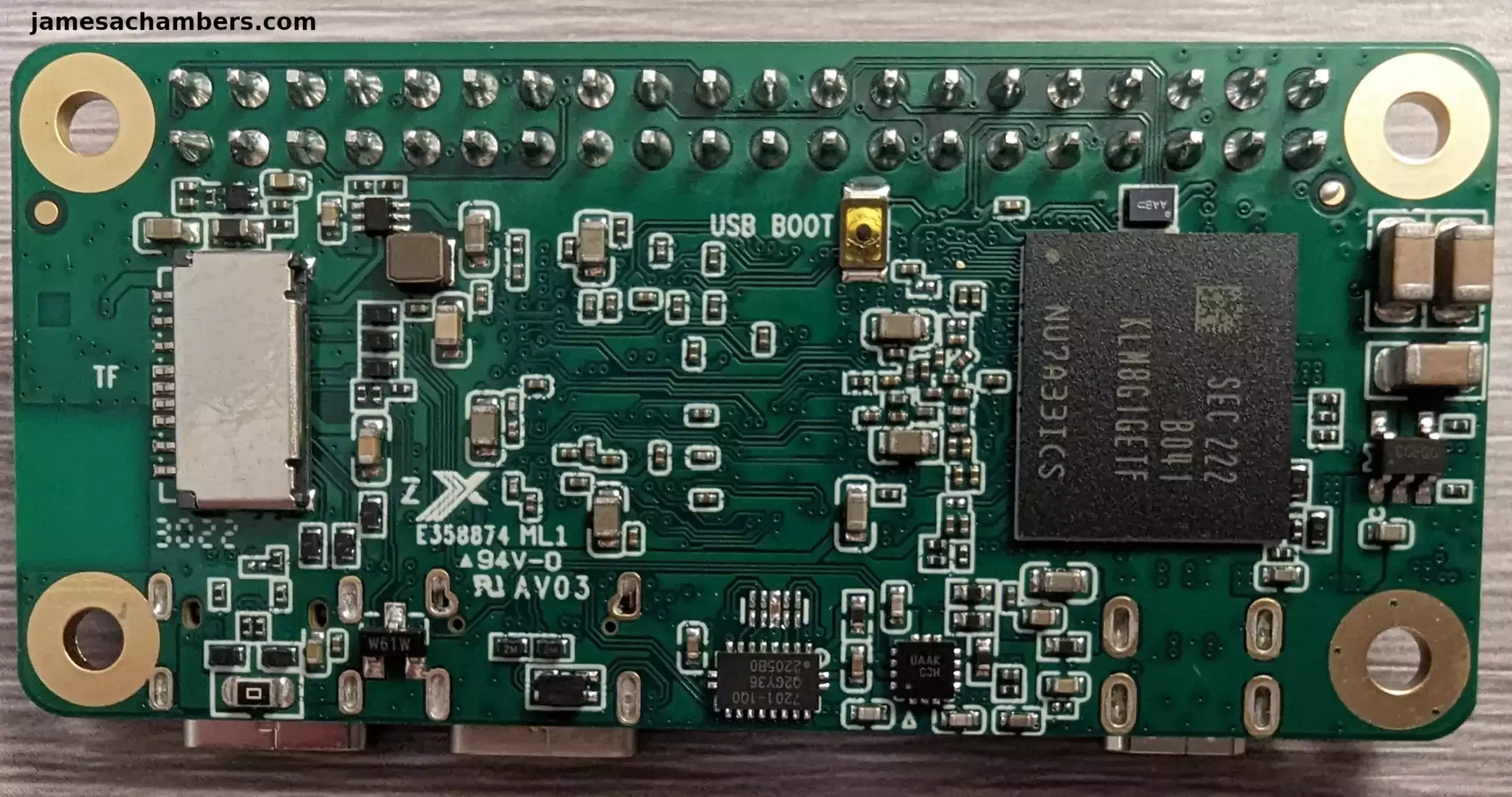 One notable thing on the bottom though is the SD card slot (labeled TF on the left hand side of the board).
Overall the build quality is excellent and I suspect the board will last a very long time.
Available Images
The official page to get images for the Radxa Zero is here. I however don't recommend using it because all of those images are very old.
Instead I suggest using the official Radxa build GitHub release pages here which has much newer releases. These include the following:
Armbian (Bullseye Minimal)
Armbian (Focal XFCE Desktop)
Debian (Buster XFCE)
Ubuntu Server (Focal)
There are also the following third-party images available for the Radxa Zero:
This is a very healthy selection of images available. The board is well supported and there should be an image for just about everyone!
Testing Performance
You can verify the performance of your SSD on Pi Benchmarks using the following command:
sudo curl https://raw.githubusercontent.com/TheRemote/PiBenchmarks/master/Storage.sh | sudo bash
Here are the results:
     Category                  Test                      Result     
HDParm                    Disk Read                 21.94 MB/s               
HDParm                    Cached Disk Read          21.93 MB/s               
DD                        Disk Write                17.1 MB/s                
FIO                       4k random read            1856 IOPS (7426 KB/s)    
FIO                       4k random write           955 IOPS (3821 KB/s)     
IOZone                    4k read                   7476 KB/s                
IOZone                    4k write                  2326 KB/s                
IOZone                    4k random read            6210 KB/s                
IOZone                    4k random write           3581 KB/s                

                          Score: 1,049                                        
The full Radxa Zero benchmark can be viewed here on Pi Benchmarks.
This performance puts it above the Raspberry Pi Zero and pretty close to the Raspberry Pi Zero 2W.
Pros / Cons
Pros
A wide variety of eMMC and memory options are available
Powerful quad-core CPU
Includes USB-C (no micro USB!)
Cons
Availability is pretty scarce even some time after release
Conclusion
I definitely understand why the Radxa Zero is so popular. It's very powerful and feels like more of what I was expecting the Raspberry Pi Zero 2W to be. It's very nice to be upgraded to USB-C. The quad-core CPU keeps pace pretty well with the Zero 2W as well.
Surprisingly the board seems to be available on Amazon in some European countries but there is no Amazon.com listing for it at time of writing. It's pretty widely available on AliExpress though no matter where you are.
If you need a very small form factor or the form factor of a Raspberry Pi Zero this will be a fantastic alternative for people who can get away with not having to use Raspberry Pi OS. If you're able to use Armbian / Debian / Ubuntu instead then it's very likely you can use this alternative to the Raspberry Pi Zero 2W.
Cooling is definitely recommended. The copper heat sinks I recommend are great* but make sure you have something. The quad-core CPU is quite powerful and if you run it bare you'll run into throttling and other issues a lot more frequently. It will perform better / smoother with a heat sink on it for sure.
This board is suitable for beginners. You don't need to do any firmware flashing or anything fancy to get this one working. A USB to TTY serial console is not required with this board. You can plug it into a monitor and configure it that way. It also includes WiFi/Bluetooth capabilities which avoids having to try to buy an extra adapter for it.
Overall I'd recommend this board for anyone who needs a board in this form factor. The eMMC options are definitely worth considering as well as it's nice to not have to worry about the SD card at all!
Other Resources
I've also reviewed the Radxa Rock 5B here
The Radxa Rock 4C+ is also worth considering for a much less expensive option than the Rock 5B that still supports NVMe
The Orange Pi portable monitor is a great choice to use with any SBC