I've reviewed several RISC-V boards on the site at this point including the Lichee RV and the Mango Pi MQ Quad. All of those boards only had a single core CPU though and aren't suitable for high performance applications.
Today I am going to review what SiFive describes as "the world's first high-performance RISC-V single board computer (SBC) with an integrated GPU". We'll explore the capabilities and performance of the board and see if it lives up to these claims. We'll also compare it to a Raspberry Pi as it has the same number of CPU cores as a Raspberry Pi.
Let's get started!
Hardware Used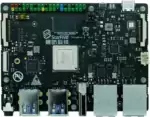 The StarFive VisionFive 2 is a quad-core high performance single board computer that runs the RISC-V open-hardware architecture. It also has a dedicated GPU making it suitable for desktop use!
Links: Amazon.com*, AliExpress*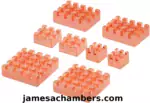 Specifications
These are directly from StarFive's official site here: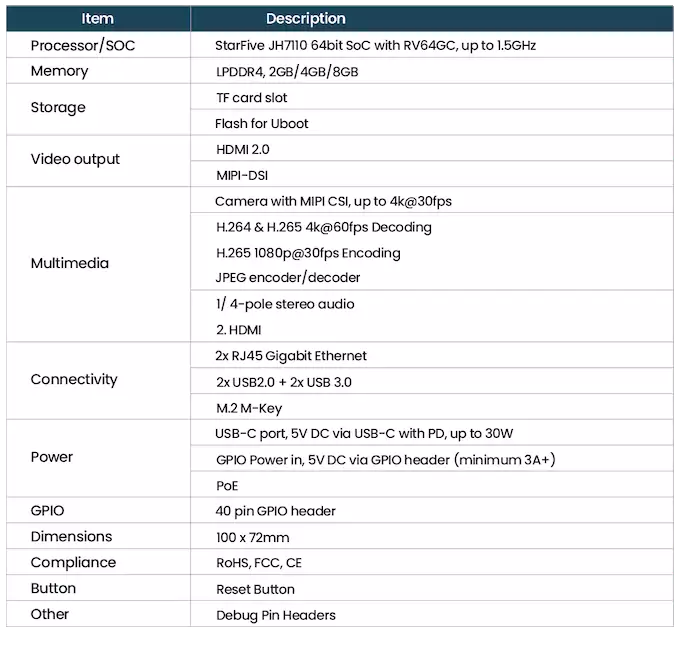 Build Quality
Okay, the specifications look real nice, but how about the actual product quality? Let's start with the packaging: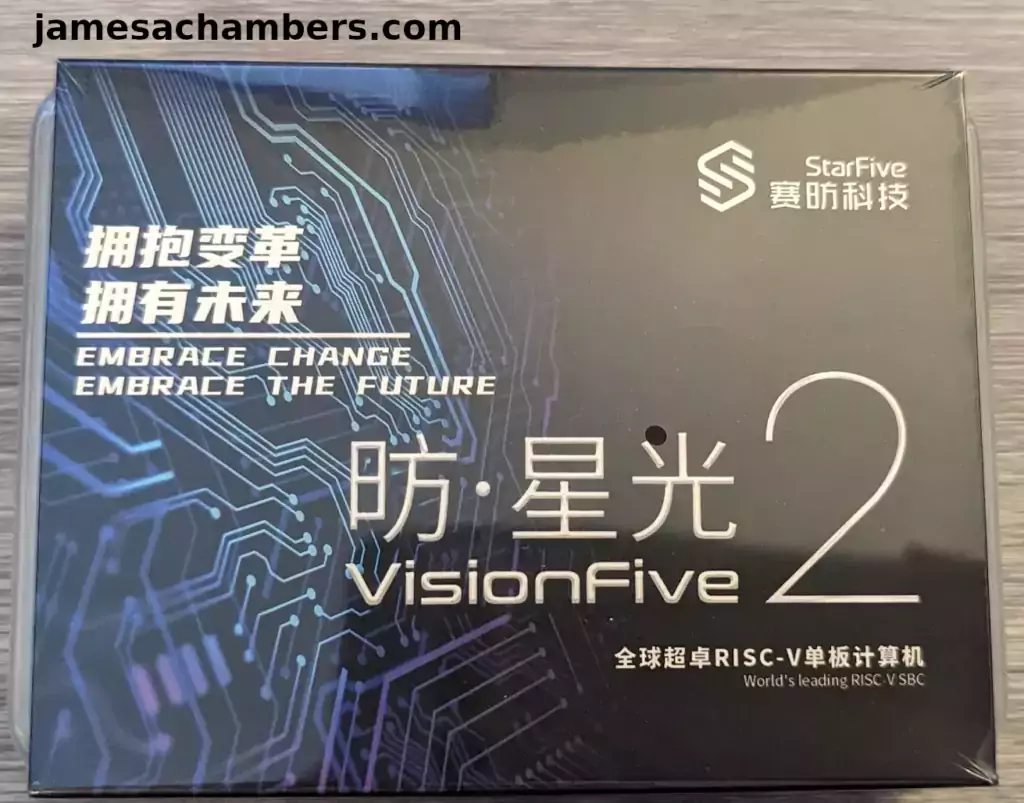 Nice. That's already better packaging than almost every SBC I've reviewed in the past several months. Inside the cardboard flap is a hard clear shell that will protect it during shipping. The board itself is shipped inside an anti-static bag as well which is not something I see a lot of manufacturers bother to do.
We can also see "Embrace Change" and "Embrace the Future" on the box. Whether I will be willing to do that will depend on how the board performs on the benchmarks!
Here is the top view: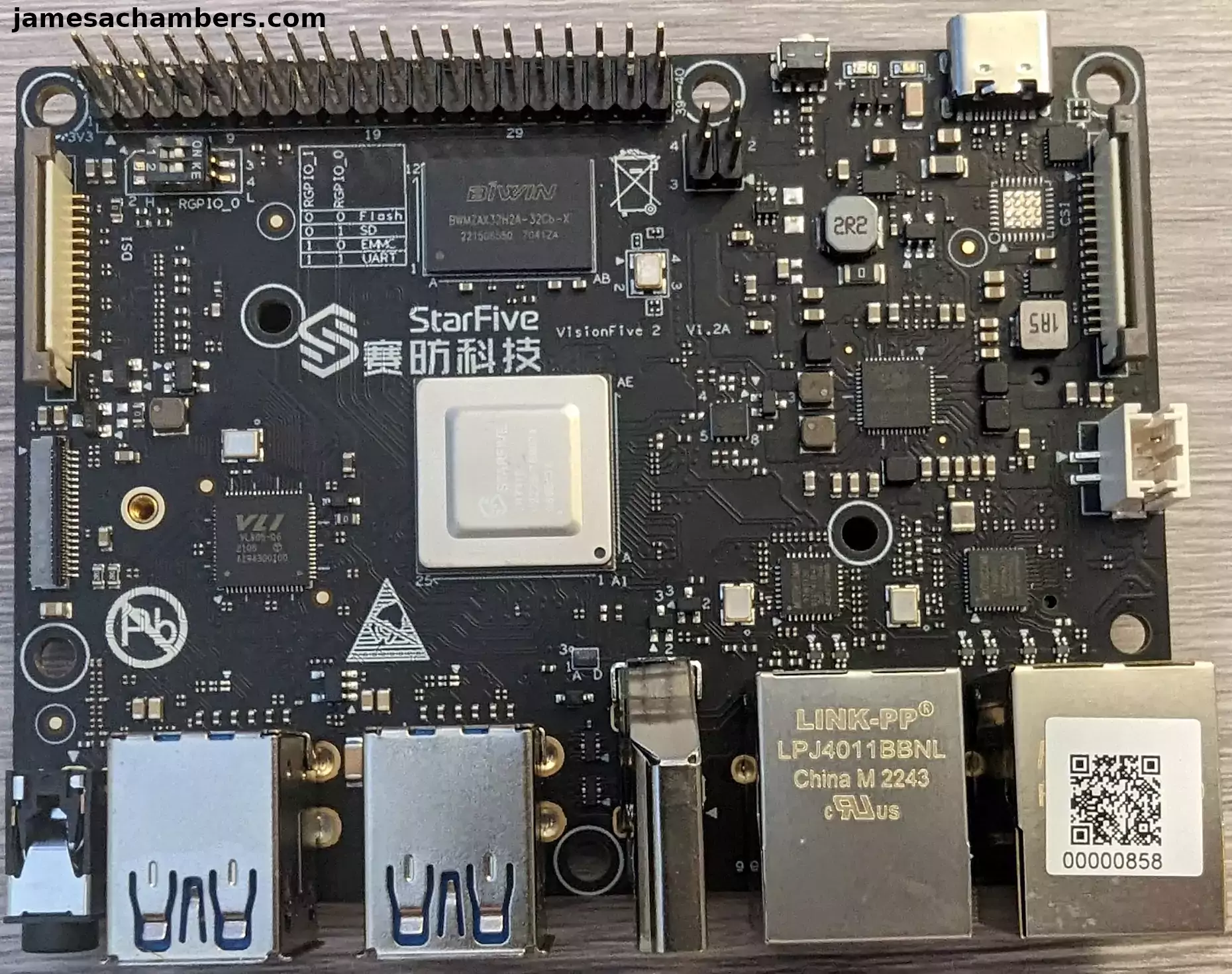 And the bottom view: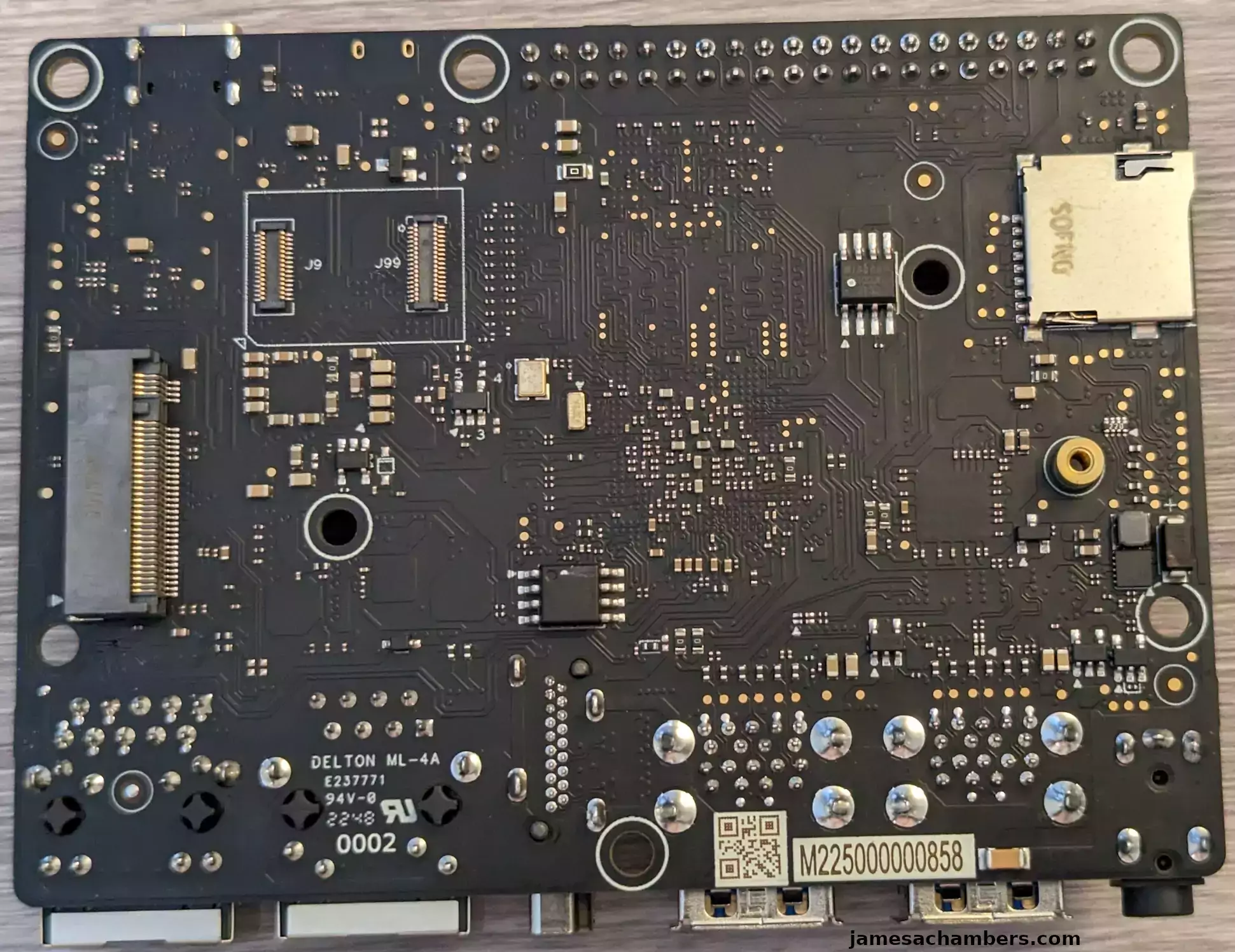 Here on the bottom we can see the M.2 slot as well as the eMMC connectors (J9, J99).
The board build quality is excellent as you can see in the pictures here. It feels like a really premium board and that they are proud of it and really care about the product.
Applying Cooling
Here's what my recommended Geekworm copper heatsink seat looks like applied to the board: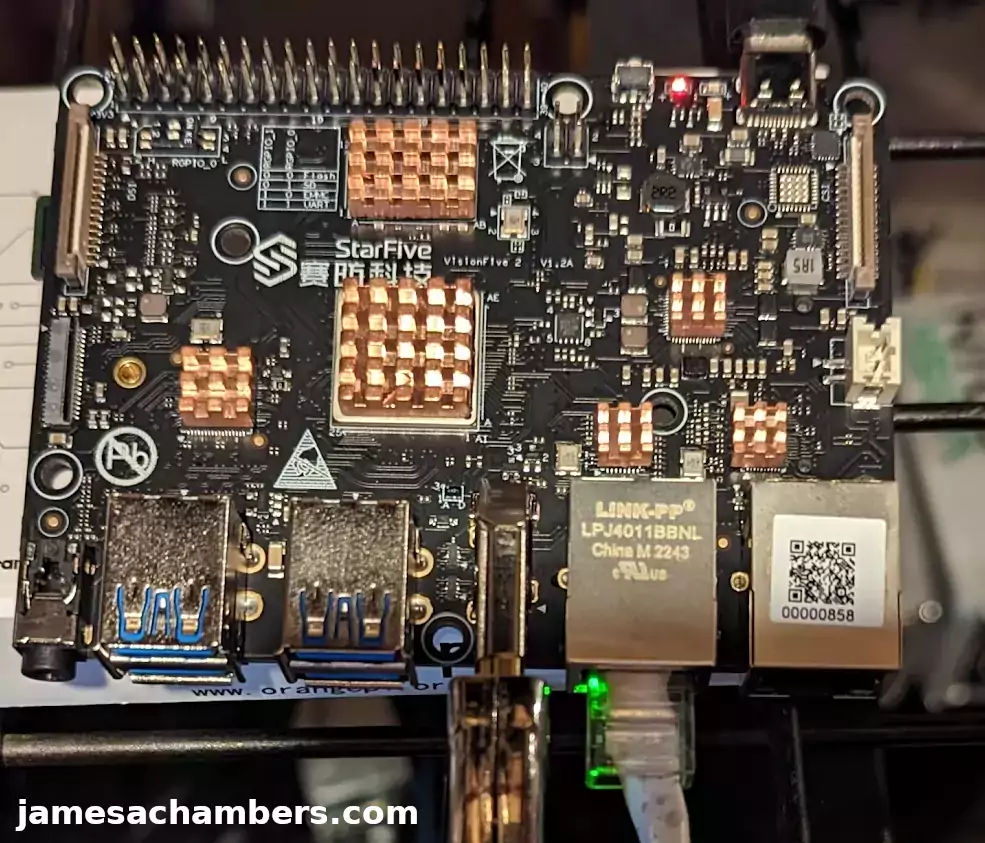 Available Images
The official StarFive Debian image is available here.
NOTE: You need to update your firmware before you will be able to run the latest image. You can download the older image to get started without updating the firmware first. See my guide here on how to update the VisionFive 2's firmware.
The official image offering for the VisionFive 2 is pretty lackluster. There is an upside to this though which is that they have very successfully been working with multiple Linux distributions to have official support within their distro for the VisionFive 2.
Ubuntu has not been updated to support VisionFive 2 yet but the VisionFive boards are officially supported by Ubuntu so I expect that to happen at any time.
StarFive is working hard on getting their boards into the mainline Linux kernel as well which should continue to improve availability across various the most popular Linux distributions.
Benchmarking Performance
You can verify the performance of your drive on Pi Benchmarks using the following command:
sudo curl https://raw.githubusercontent.com/TheRemote/PiBenchmarks/master/Storage.sh | sudo bash
Here are the results:
     Category                  Test                      Result     
HDParm                    Disk Read                 181.92 MB/s              
HDParm                    Cached Disk Read          181.63 MB/s              
DD                        Disk Write                107 MB/s                 
FIO                       4k random read            44425 IOPS (177700 KB/s) 
FIO                       4k random write           9006 IOPS (36024 KB/s)   
IOZone                    4k read                   64462 KB/s               
IOZone                    4k write                  43701 KB/s               
IOZone                    4k random read            35419 KB/s               
IOZone                    4k random write           75853 KB/s               

                          Score: 13,856
The full StarFive VisionFive 2 benchmark can be viewed here on Pi Benchmarks.
This is actually a great performance score. It's much higher than anything the Raspberry Pi 4 can do thanks to the PCIe interface (while the Raspberry Pi 4 has to use USB).
It's also below competing ARM boards such as the Orange Pi 5, ODROID M1 and the Raspberry Pi CM4 that have PCIe 2.0 interfaces. The latest generation of alternative ARM boards are faster than this board but they also have a lot more CPU cores.
It's pretty impressive performance considering this is RISC-V and not an ARM device. This is by far the highest score I've *ever* seen on any RISC-V device. It's not even close. RISC-V is still a rapidly developing technology while ARM processors (while still having technological improvements) are unquestionably a much further developed technology. RISC-V is catching up very quickly though!
Pros / Cons
Pros
Has a quad-core 1.5GHz RISC-V CPU
2x Gigabit Ethernet ports
Has PCIe 2.0 M.2 M-key slot for NVMe drives
MSRP of $65
Cons
No built-in WiFi — optional module is available
Requires USB to TTY serial adapter — boot loader does not support monitor/HDMI
Conclusion
It's recommended to have a USB to serial adapter to work with this device. You will need one to update the firmware once you first receive the board. That is disappointing to me because it impacts who I would want to recommend the board to. If it had been easy enough to use I was going to start recommending it as a better alternative to the Raspberry Pi for running a SBC Minecraft server but I'm legitimately not comfortable doing that yet except for experts.
I wish it came with firmware capable of running the latest images though. The firmware flash process is tough and I'll be publishing an article on it. It doesn't help that the easy way to do it won't work with the firmware they shipped. That only works *after* you have to set up a local TFTP server and flash the device in uboot over the serial console.
No, I'm not joking. You can see the SPL and firmware update process in the user guide here. There are only two methods (setting up a TFTP server or flashing from within Linux) and flashing within Linux won't work until you've done the TFTP flash first. Ouch.
I just do not get what these boards manufacturers are thinking trying to compete with the Raspberry Pi and yet are skipping the basics like including a built-in WiFi adapter or even things I can't even believe I have to say such as the luxury of configuring your board with a monitor instead of having to attach a serial adapter to the GPIO pins. What year is it?
I do this professionally and even I don't want to deal with that. We were past that many, many years ago with the Pi (I thought for good) and you guys are *requiring* serial configuration and firmware flashing via TFTP out of the box to even run the official images? You can't find a way to get a WiFi chip on the board? Shame on you. Maybe next generation?
Your board is automatically disqualified as a Raspberry Pi-replacement contender if the boot loader won't work with a monitor and requires serial configuration. That's not to mention a mandatory TFTP firmware flash to run the latest images. That's way too many steps back from the Pi and I can't recommend this board for anyone but experts unfortunately.
I know you will have a rough time if I tell you that it's for beginners and you buy this board. I don't want to do that to you. You should expect a board that is not ready to be an alternative to the Pi yet but shows a lot of promise (especially by the VisionFive 3 or VisionFive 4). If this is your first time jumping away from a Raspberry Pi you should absolutely try something like the Orange Pi 5 instead. There's just a way better image selection / general support out there for that.
It's still very early for RISC-V but I'm very excited by the hardware developments and that the power is finally getting there. We just need the Linux distribution / image support to get there. That's something that most users will need before adopting one of these boards!
Despite my seemingly negative tone here in the conclusion I'll be publishing a ton of supporting documentation / articles for this board. Yes, it's not there yet for beginners. It's probably not there yet for most users yet due to the limited image support. It probably needs one more generation before it's ready for most users but I'm excited enough and see enough potential that I'll definitely continue to write about the board and document as it improves / when it gains official Ubuntu support / other noteworthy events.
Other Resources
I have a SSD boot guide for the StarFive VisionFive 2 here
Don't miss my guide on how to update the StarFive VisionFive 2's firmware here