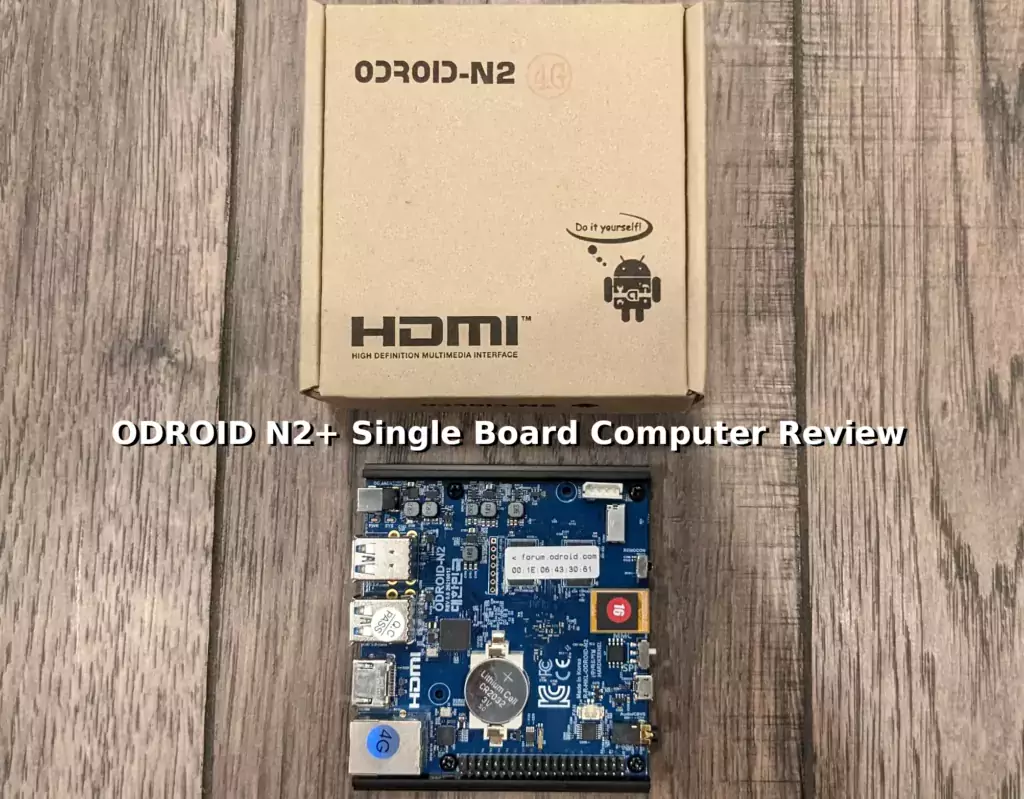 The ODROID N2+ is a single board computer available in 2GB and 4GB options. It has the Petitboot loader which easily supports booting from flash drives, SSDs, and other types of storage. It's a very popular choice for emulation due to it's powerful CPU and GPU. It also has overclocking capabilities!
Today I'm going to review the ODROID N2+ and examine the available image choices, benchmark the performance of the board, take a look at the capabilities and give some general recommendations about who would best benefit from using a board like this. Let's get started!
Hardware Used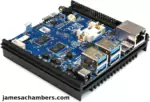 The ODROID N2+ is a great board with a built-in Petitboot bootloader capable of booting from SSDs and other types of devices. The N2+ is an overclockable board which is one of the advantages it has over the M1. Available in 2GB and 4GB variants.
Links: Amazon.com*, Amazon.ca*, Amazon.com.au*, Amazon.co.jp*, Amazon.co.uk*, Amazon.de*, Amazon.es*, Amazon.fr*, Amazon.it*, Amazon.nl*, Amazon.pl*, Amazon.se*, Amazon.sg*
Board Specifications
Amlogic S922X Processor

Quad-core ARM Cortex-A73 CPU

Stock frequency 2208 MHz
Overclocks to 2400 MHz

Dual-core Cortex-A53

Stock frequency 1908 MHz
Overclocks to 2016 MHz

DDR4 RAM
Mali-G52 GPU

6x Execution Engines (800Mhz)

Ports

1 x eMMC connector (8G, 16G, 32G, 64G and 128G are available)
1 x microSD slot (DS/HS modes up to UHS-I SDR104)
1 x GbE LAN ports (RJ45, supports 10/100/1000 Mbps)
1 x HDMI 2.0 (up to 4K@60Hz with HDR, CEC, EDID)
1 x Composite video (3.5mm jack)
4 x USB 3.0 Host ports (shares one single root hub)
1 x USB 2.0 OTG port for Host or Device mode. (No power input)
1 x Debug serial console (UART)
1 x Peripheral Expansion Header (40-pin, 2.54mm pitch)
Build Quality
The ODROID N2+ is quite rugged. Everything is securely attached to the board and the fact that the bottom is a giant heat sink makes it quite rugged.
Here is the top view: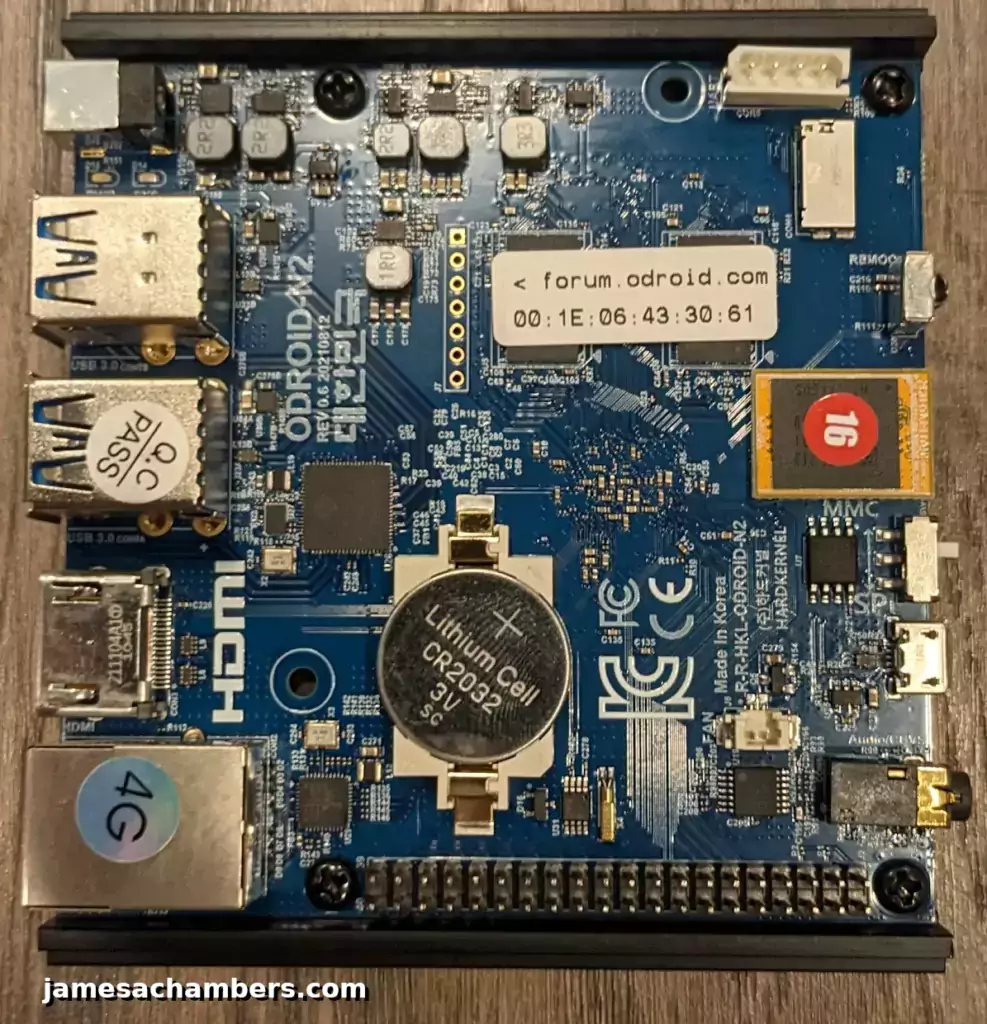 My board revision is 0.6 20210812. I have the eMMC mounted in the slot (recommended, it performs really well). I've covered Hardkernel eMMC modules extensively here in this guide.
You can also see the CR2032 backup battery is mounted in it's slot. This is nice for the real time clock (RTC) as even if the board loses power it will retain certain memory/settings that you would normally expect to be lost on a board like this.
Here is the bottom view: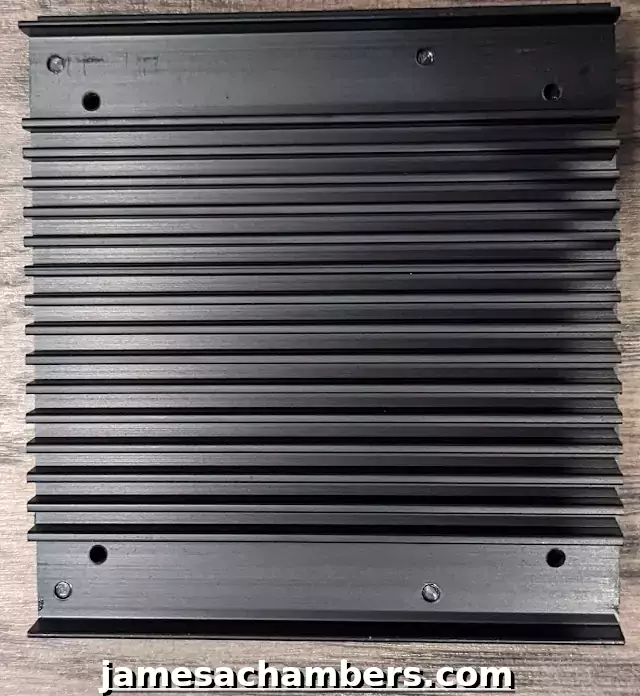 Not much to see here other than it's a giant heat sink like I stated earlier. It has held up pretty well on my metal rack over the past few weeks. You can see a little bit of scratching along the top of the heat sink (my fault). The design keeps it quite cool!
Images Available
Official Images
The Hardkernel list of official images for the ODROID N2/N2+ is here. These include:
Ubuntu 22.04 LTS (Mate Desktop and Server)
Android PIE
Unofficial Images
The Hardkernel list of unofficial images for the ODROID N2/N2+ is here. These include:
Debian Stretch
Manjaro ARM
Arch Linux
Armbian
DietPi
CoreELEC
Volumio 2
Archdroid
Fedora 35 Workstation
Void Linux
Galv0nized
LineageOS 19.1
Bactocera.linux
emuELEC
NEMS Linux
Slash TV Gaming and Media Center
The selection of images for the ODROID N2+ is outstanding. It's among the best of all the boards I've reviewed due to it's popularity.
It also helps that the images are compatible between the ODROID N2 (non plus) and the ODROID N2+. If it will work with one it will work with the other!
Benchmarking eMMC / SSD
You can verify the performance of your drive on Pi Benchmarks using the following command:
sudo curl https://raw.githubusercontent.com/TheRemote/PiBenchmarks/master/Storage.sh | sudo bash
Here are the results for the eMMC:
     Category                  Test                      Result     
HDParm                    Disk Read                 143.14 MB/s              
HDParm                    Cached Disk Read          144.12 MB/s              
DD                        Disk Write                51.9 MB/s                
FIO                       4k random read            9601 IOPS (38406 KB/s)   
FIO                       4k random write           12945 IOPS (51782 KB/s)  
IOZone                    4k read                   30388 KB/s               
IOZone                    4k write                  33065 KB/s               
IOZone                    4k random read            30306 KB/s               
IOZone                    4k random write           30945 KB/s               

                          Score: 7,151 
The full ODROID N2+ eMMC benchmark can be viewed here on Pi Benchmarks.
The full ODROID N2+ SSD benchmark can be viewed here on Pi Benchmarks.
With a score of 7,151 that is the fastest eMMC score I've ever received (or that I think I've ever seen). I strongly recommend going with either a SSD or eMMC with this board and not using a SD card. The performance is so much faster with either of those choices. This board is powerful enough that it will hold you back to be using a SD card for storage with such a powerful CPU/GPU.
My score with a SSD was 7,476 so did gain a slight amount of performance with the SSD. I was hitting the USB 3.0 limits with a NVMe drive so I could have achieved this same score with a 2.5″ SATA SSD due to the USB 3.0 bottleneck. This definitely makes the eMMC module a better value proposition than on many other boards.
Pros / Cons
Pros
Popular choice for emulation due to powerful CPU + GPU combination
Overclockable
Entire bottom surface area of the board is a large heat sink keeping everything cool passively
Cons
Price – definitely not the cheapest board
Conclusion
The ODROID N2+ is a great choice for people who need a powerful GPU / CPU combination on a single board computer. This makes it a very popular choice for game emulation. It's also a very popular choice for people who want to use a desktop environment with a single board computer as it has a powerful enough CPU/GPU combo to give a comfortable experience.
Petitboot makes it easy to boot from USB with a solid state drive (SSD) or a flash drive. The eMMC modules are a fantastic choice for performance even though they can be difficult to find. The Hardkernel eMMC module tested nearly as fast as a SSD on this board.
Using a solid state drive is also a great choice (and much easier to get your hands on). See my SSD boot guide in the "Other Resources" section for instructions on how to do that.
I typically don't recommend using a NVMe drive with this model. Since you have to use USB 3.0 your performance is limited to what is achievable by something like a cheap 2.5″ SATA drive. This is absolutely still worth doing but don't buy a super expensive NVMe drive to do it with. If you want to use NVMe you should use the ODROID M1.
The only major downside of the board is that it's expensive. This is due to it's popularity and the fact that people know in the game emulation community that this is a good board. You can even push it further with the overclocking capabilities. Given that in current market conditions it's still generally cheaper than most Pis I would say it's definitely worth considering over the Pi and a very solid choice!
Other Resources
I've also written a SSD boot guide for the ODROID N2+ here
My guide on the Hardkernel eMMC modules is available here
If you would like to use a NVMe module (SSD) I recommend checking out the ODROID M1 which has a M.2 NVMe slot