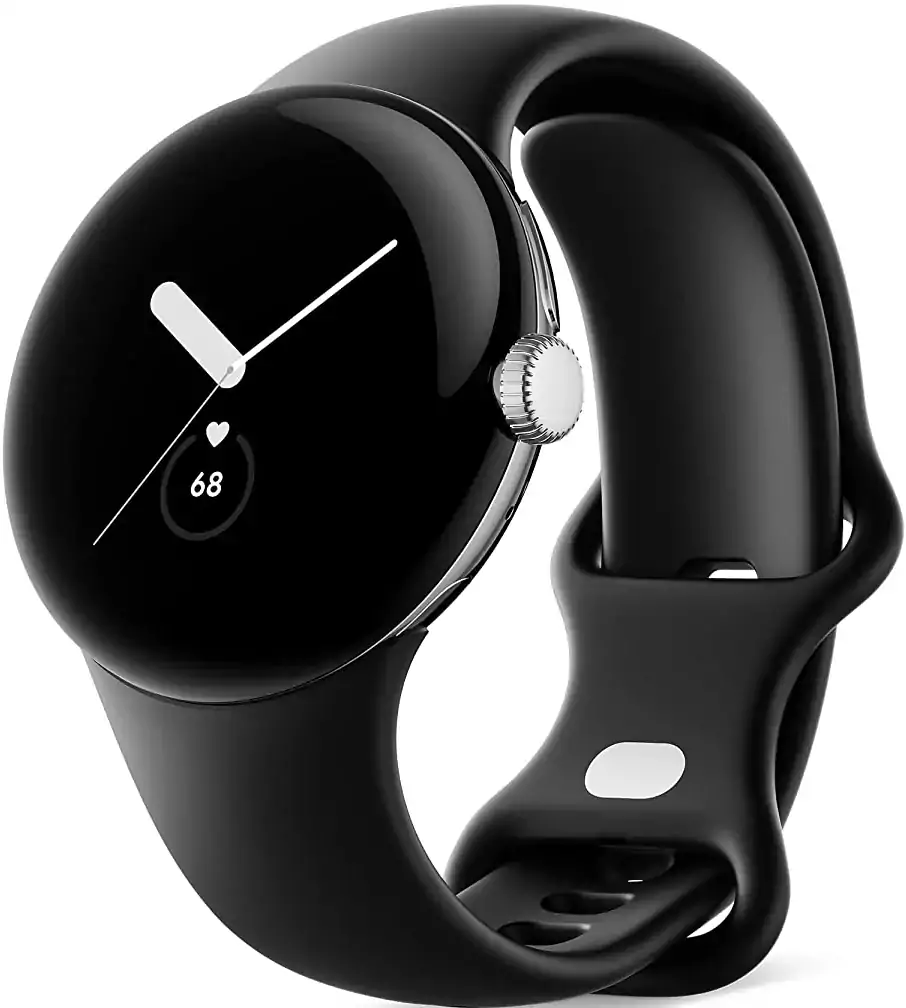 It had been a while since I had given using a wearable device a try. I had not used one since the original Apple Watch all the way back in 2015. I had switched away from Apple many years ago though to Android phones. Since then I had not seen any reason to try a wearable again although I heard the Samsung Android ones had been improving.
I'd been using a Google Pixel phone for the past several generations as I really like the Google out-of-box experience of having all of the native apps be proper Google apps. It was a clean experience that felt a lot more like Apple. Other Android phones I'd used such as Samsung pushed their own suite of apps which usually were not as good as the native Google apps.
As a fan of the clean first-party OS/application experience I was pretty excited to give the Google Pixel Watch a try. I've now had it for 3 months so this will be a 3 month usage review. In this review I'll cover the good, the bad and the ugly about the Google Pixel Watch.
Let's begin!
Hardware Used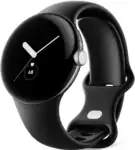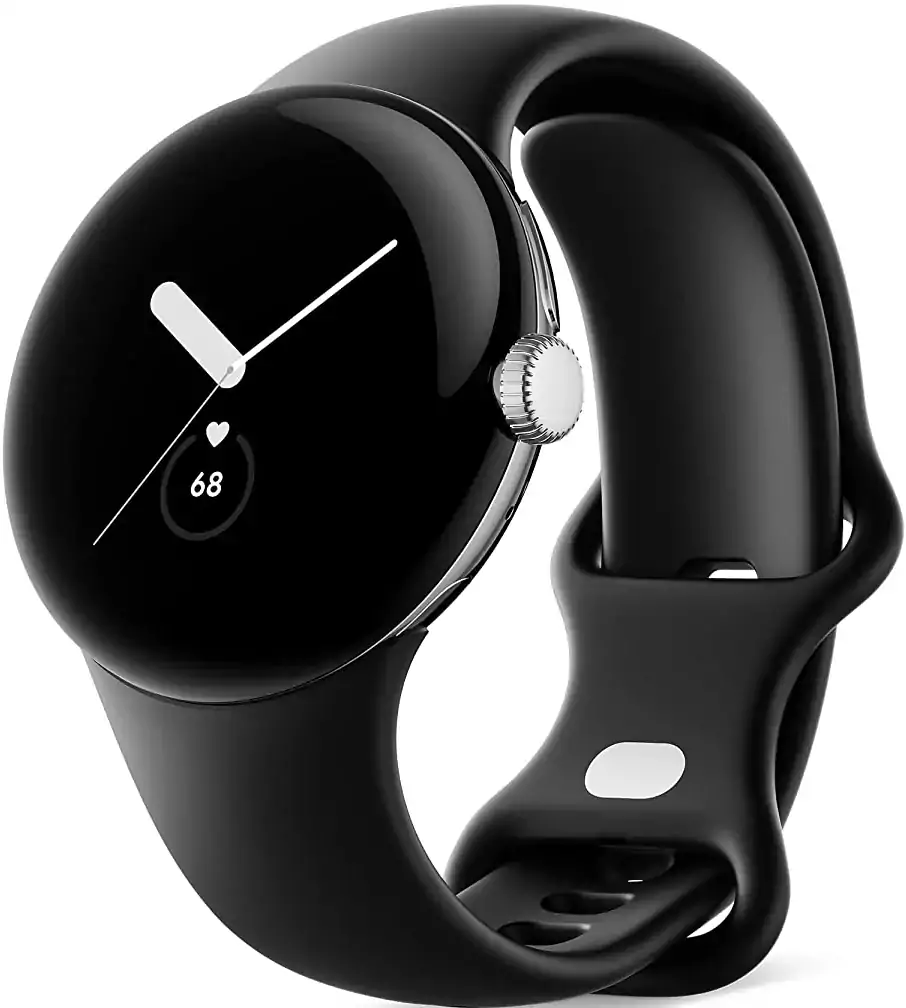 Screen Protection Necessity
Let's start with a big one. The Google Pixel Watch does have Corning's Gorilla Glass 5 for the watch face. Most of you will probably recognize the name of the material. The truth is though that's an older version of gorilla glass and there's way better options available now (that are frequently used by other manufacturers such as Apple and Samsung).
So what can happen if you don't use some kind of screen protection? Check out what happened to Ben Schoon when he took his watch to Disney World: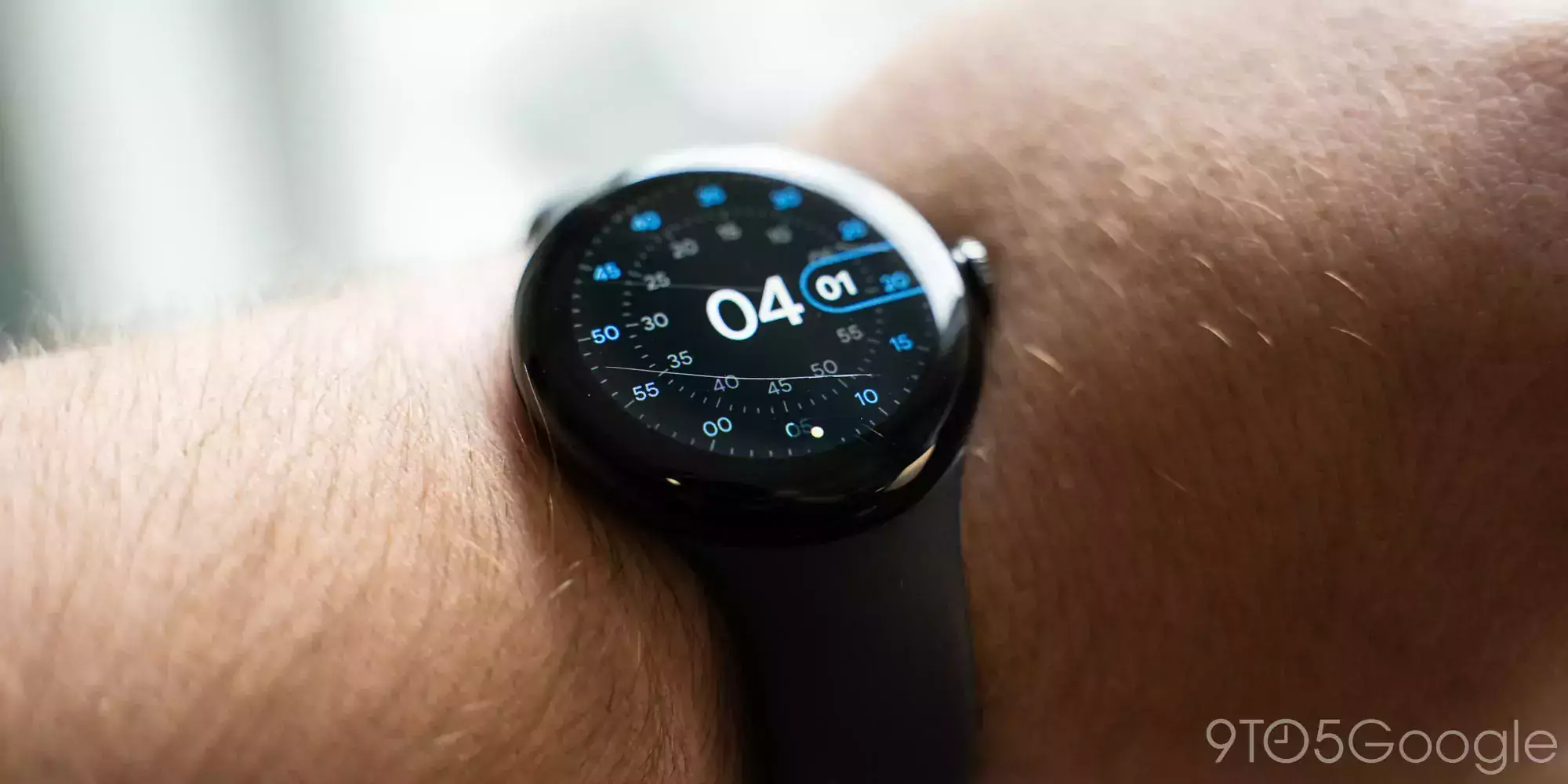 How hard is this to do? Not that hard if the watch face makes contact with the right kind of material. Apparently Ben ran into a pillar "Pixel Watch first" when he was trying to get a picture taken. He had used the watch without protection the entire time up to that moment though without any serious scratches.
The problem was the pillar was probably made (or covered) with a material that is really high on the hardness scale. If it was a stone pillar that's exactly the kind of thing I'd expect to be able to do this.
I've scratched some Gorilla Glass surfaces on phones with pebbles from my shoe when I'd previously had them naked for years without things like my car keys or anything like that scratching them. It was simply because that little pebble happened to be a 7-8 on the hardness scale which is too much for this type of glass to protect against. I dropped my phone on the floor face-first and it slid against it and that scratched it quite badly. I ended up trading it in for the Google Pixel 7 Pro*.
Recommended Screen Protector
Given all of this needless to say I highly recommend using a screen protector for the Google Pixel Watch. I've been using these ones for the 3 months I've owned it: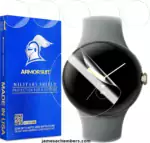 A 6 pack of screen protectors for the Google Pixel Watch.
Links: Amazon.com*, Amazon.ca*, Amazon.co.uk*, Amazon.co.jp*, Amazon.de*, Amazon.es*, Amazon.fr*, Amazon.it*, Amazon.nl*, Amazon.pl*, Amazon.se*
These are pretty standard and inexpensive protectors. The trick with applying them is to wet both sides of the screen protector with the included solution and then stick it on the watch face. Try to get it centered on the watch face. At that point you need to wait at least a couple of minutes for it to start drying before you try to squeegee anything out. If you try to squeegee before that the screen protector will just freely move around on the watch face.
I'll be honest and say you should probably plan on just destroying the first attempt to install it. I did. My wife did too for her first try. After that we both "got it" though and you learn the patience while waiting for it to dry and will get a perfect installation every time after that.
You get 6 of them with the pack (only $9.95 at time of writing) so it's fine to use up one as a training one. Don't be afraid if you hate installing these. This one isn't particularly hard or complex like some of the glass-based and other solutions. Believe me when I say the biggest trick is patience and not trying to squeegee before it has started to dry a little bit (or press down the edges, they won't stick until it starts drying).
My wife and I replace ours every month or two because at that point the screen protector will usually start to have some damage for the hits it took for your screen. Once I start noticing a few scratches/scuffs in the screen protector I'll put a fresh one on.
After it has dried for a few minutes and I'm able to squeegee it without it moving the entire screen protector around freely I'll squeegee it really well and then put it on the charger. The heat from the charging seems to help it dry and cure a bit faster and then I'm not wearing it while the screen protector is still wet/sensitive.
Developer Mode
There are some great quality of life tweaks you can make by activating developer mode on your watch. This is easy.
Go to Settings->System->About->Versions. You should see this screen: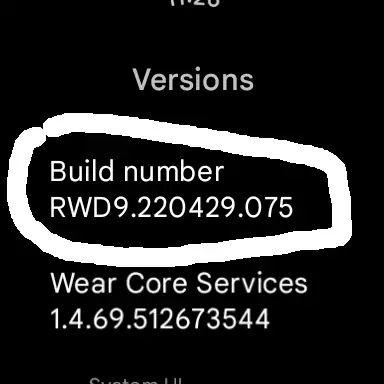 Simply tap "Build number" as circled above until you get a message that you've enabled developer mode. It should be about 7 taps.
Now you should have a new option in your Settings menu at the very bottom: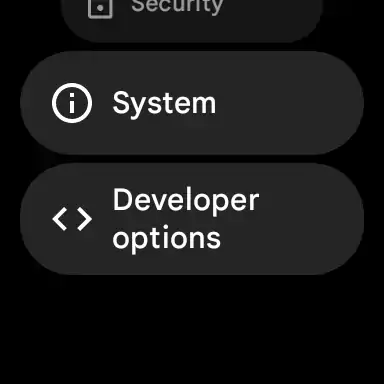 Developer Mode Options
Once you've activated developer mode you'll have the following options:
Stay awake when charging (not recommended)
Bluetooth snoop logging
Vibrate on connectivity change
ADB Debugging
Debug over Bluetooth / WiFi
Revoke debugging authorizations
Wear developer options

Force display burn-in protection
Force low-bit ambient mode

Force full GNSS measurements
Select mock location app
Logger buffer sizes
Debug layouts
Force RTL layout
Debug GPU profiling
Window animation scale (recommended)
Transition animation scale (recommended)
Animator duration scale (recommended)
Pointer location
Show taps
Bug report in menu
Automatically enable WiFi when charging (recommended)
WiFi verbose logging
Mobile battery saver
Mobile data
Battery optimization
System State Overlay
Haptics on TTW
Wow, that's quite the set of options! There's plenty of useful ones in here depending on your circumstances and what you are trying to do.
The ones I recommend the most are changing the window animation scale, transition animation scale and animator duration scale. I changed mine to .5x from the default of 1x.
What this does is makes your watch animations take half of the time. It makes your Google Pixel Watch feel much faster because you aren't waiting as long for it to do the animations. Some people like shutting them off altogether with the "Animation off" setting. That's a valid option to if you want no animations. I still wanted the animations but I wanted them to take less time / be faster. This developer setting lets you do that.
Now let's talk about a setting I do not recommend. The "Stay awake when charging" option. This sounds great in theory as since it's connected to power it should be fine to power the display, right? The issue is that this is wireless charging and if you enable that option it will take at least 2x-3x longer to charge. It will make your charging time go from minutes to an hour or even more.
I also like having WiFi automatically enabled when charging. This doesn't seem to impact the charging time much unlike keeping the screen on constantly while it's charging.
Taking Screenshots
There's a neat and easy way to take screenshots of your Pixel Watch screen from your phone. To do this simply open your "Watch" app from your Android phone.
Click the 3 dots in the top right of the screen to bring down the menu and choose "Take screen shot on watch":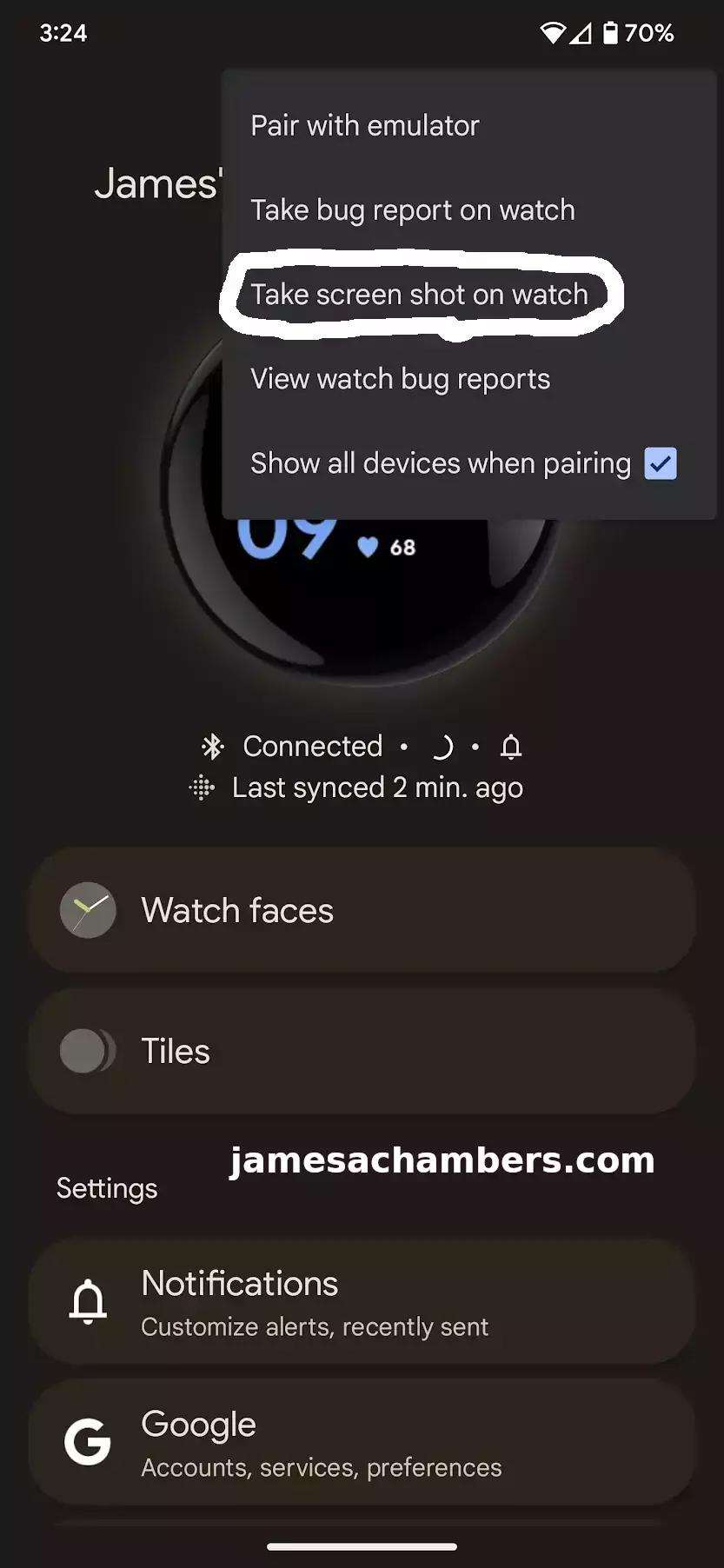 Once you've pressed to take the screenshot you should have a new notification on your phone saying "Ready to send watch screenshot – Tap to send".
Tap the notification and it will give you options on where to send the screenshot. You'll have all the sharing options available like you would sharing most things in Android. I sent mine to my Google Photos account to use for this article but you can email, text and all of the other available options in the Android sharing menu.
Battery Tips
When I first got the device I was only getting about a day out of it between charges. I experimented with a lot of the different power saving settings and I found that it was the tilt-to-wake option that was reducing my battery life the most.
That setting is in the Watch app under Watch Preferences->Display & Gestures. Here's my power settings: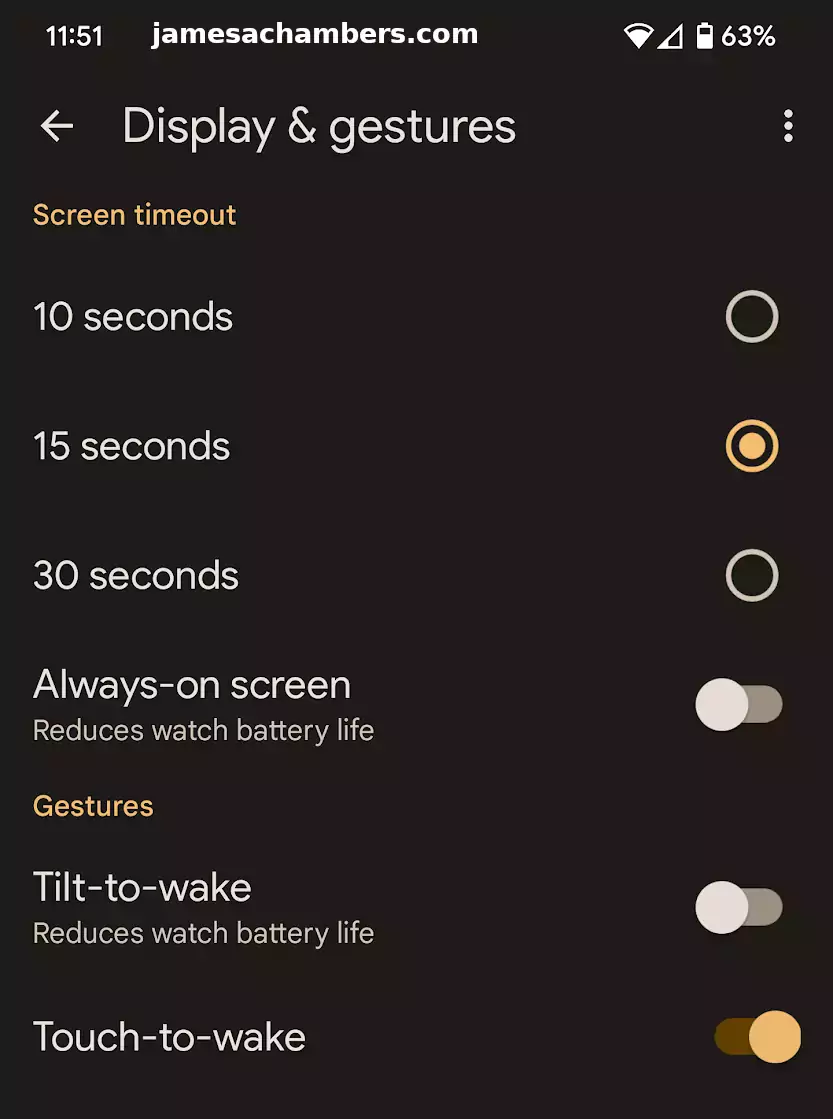 It turns out that since I work on the computer all day my watch was constantly activating every time I put my hands up to my keyboard basically. This was tilting it and waking it. It was absolutely slaughtering my battery life.
With the above settings I now get about 2 days worth of battery life. I try to charge it daily when I take a shower but I always make a note of what my battery life is each 24 hours when I take my shower. It's usually around 48-55% depending on how much I was using it with the screen on that day.
I was not very happy with only getting one day out of it but fixing the tilt-to-wake setting gave me a bunch of breathing room where if I forget to charge it one day then I'll probably hit battery saver mode sometime late on the second day once it reaches below 20% or so.
Watch Faces / Complications
Watch faces will be the very first option you see in the "Watch" app. It's very easy to change faces as well as configure exactly what information shows on the main screen.
There are varying numbers of slots to display information on the watch face depending on which face you choose. I prefer to use the "Index" watch face as it has a very high number of complications while maintaining a very minimalist design: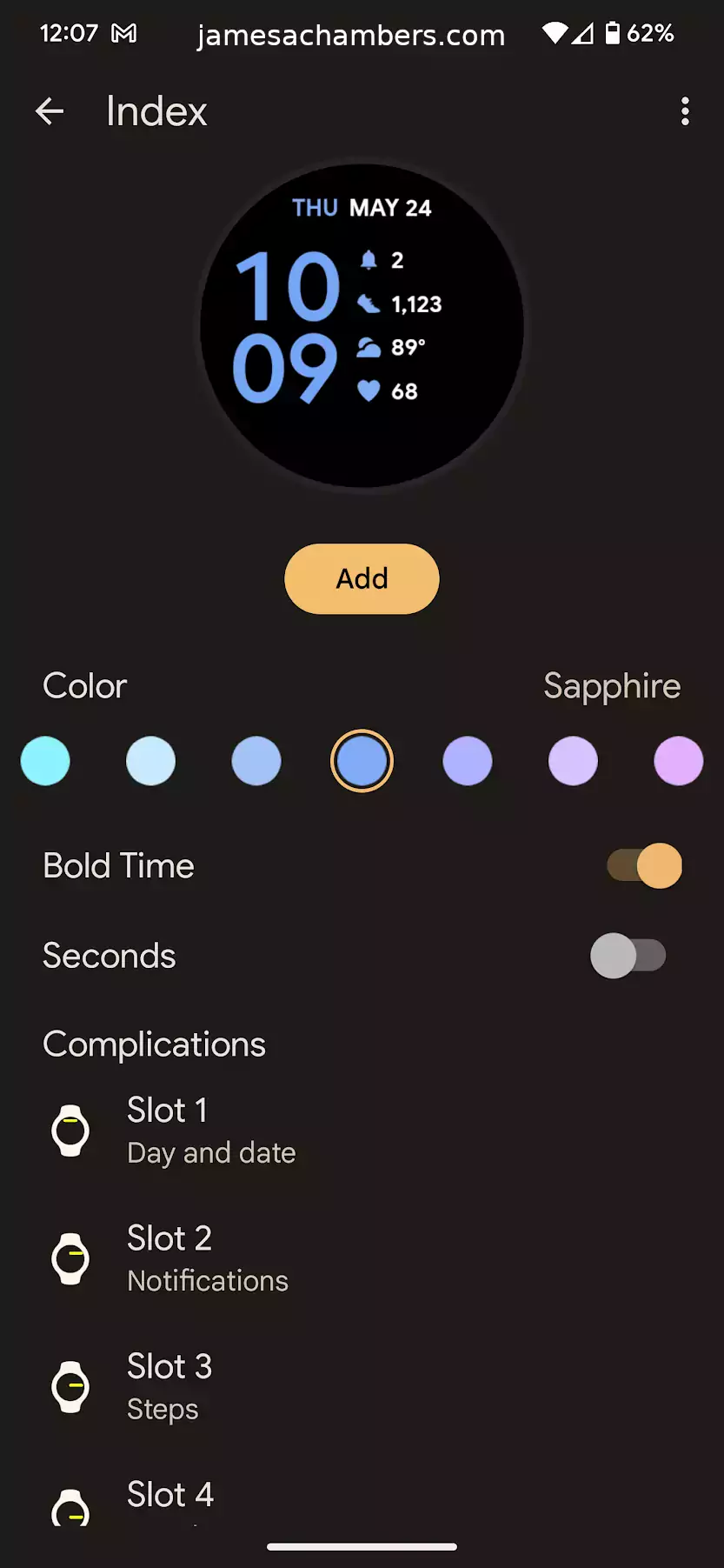 Here you can see how easy it is to adjust various parameters of the watch face. The complications are set at the bottom. Saying there is a lot of choices on what data you can display is an understatement: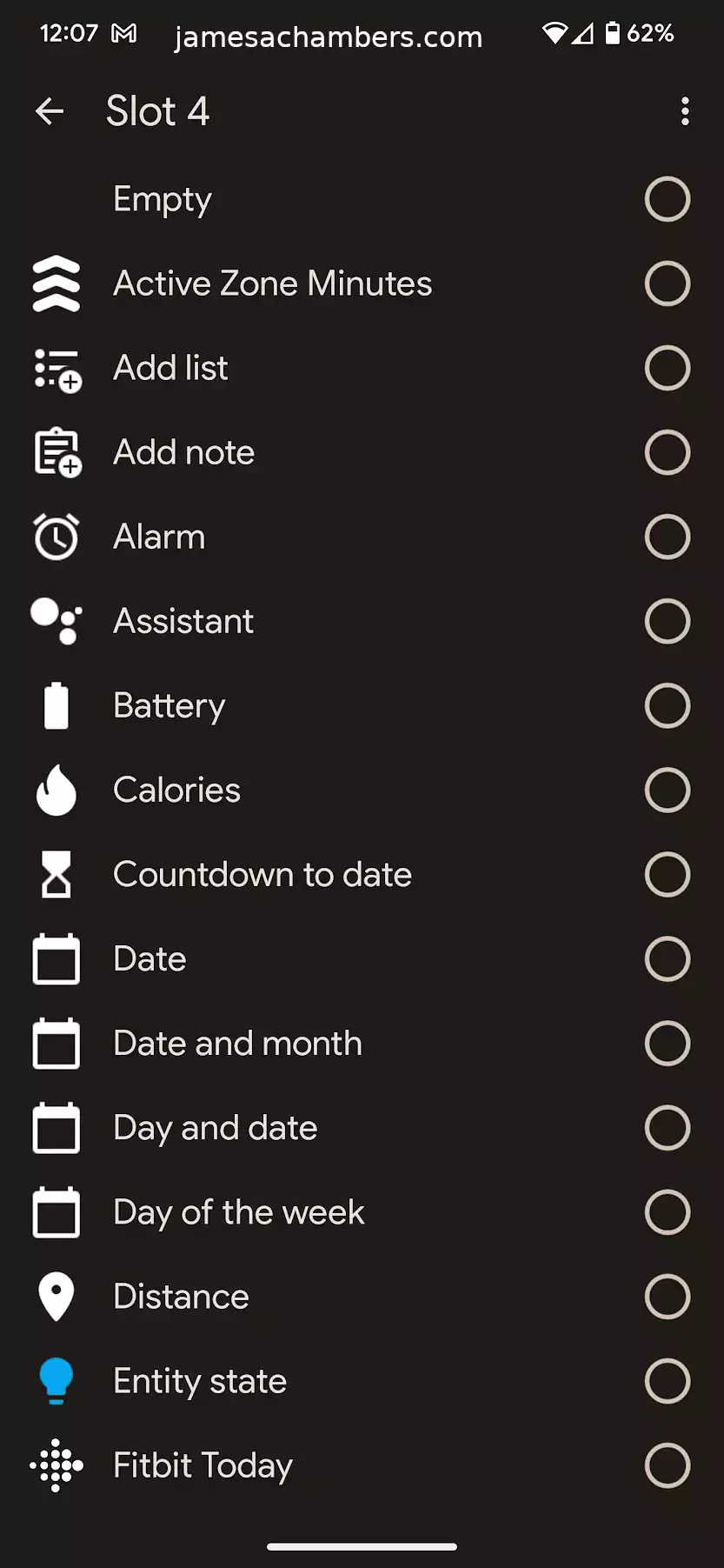 Here you can get an idea of just how many complication options there are to display data on your Google Pixel Watch. This was as many as I could get in a single screenshot.
One interesting thing to note is that one of my icons is a different color than all of the others. That is because the "Entity state" blue icon above actually belongs to my Home Assistant app.
That's right, you get app-related options you can display on your watch faces! With the "entity state" option I could actually display the state of one of my smart home devices within Home Assistant right on the watch face. Other Wear OS apps will give you more options to display on the watch face in a similar way. Very nice!
Pros / Cons
Pros
Features an minimalist Google design
FitBit integration and blood pressure sensor are excellent
Complications allow you to display many different types of information on the watch face including new choices based on the apps you install
Cons
Only compatible with included charger — does not support other wireless chargers
Uses an older type of Gorilla Glass 5 that is not as tough as many competitor smart watches on the market (screen protector recommended)
Conclusion
I've been really impressed with the Google Pixel Watch especially considering it's a first generation product. It's delightful to use and many things that I wasn't expecting to work (such as picture messaging within the Messages app) worked flawlessly. The "Messages" app integration is amazing.
I've even found some surprising apps available for Wear OS such as Home Assistant. This allows me to control my entire smart home from my wrist. All of my available smart home options and sensors show up within Home Assistant on the watch.
The FitBit integration has been nice as well. I can always see my blood pressure, it tracks my sleep and more. It comes with a 6 month subscription to FitBit pro which is necessary to track sleep. Most of the health related features will work fine without the premium subscription but it is nice. You may also use the Google Health app with it as well but FitBit is definitely the star here for fitness tracking.
I can't stress enough that you should use some sort of watch face protection / screen protection for this device. Hopefully I scared you all enough with the scratch picture at the top of the article that you will consider using some kind of screen protector with the device. You won't regret it but you very well might regret not using one.
I'd also like to applaud Google for making the Google Pixel Watch have exactly zero additional features for people with a Google Pixel phone. You won't get a single additional feature using a Google Pixel phone over anyone else. My wife has the Samsung Galaxy S23 and I got her one of these for Christmas and she loves it. She can do everything I can do and that's a huge plus.
I like that Google is playing nice and not locking any exclusive features to the Pixel lineup. It makes it a lot easier for me to comfortably recommend the watch to all Android users. You will be able to take full advantage of it no matter what brand of Android phone you are using.
Other Resources