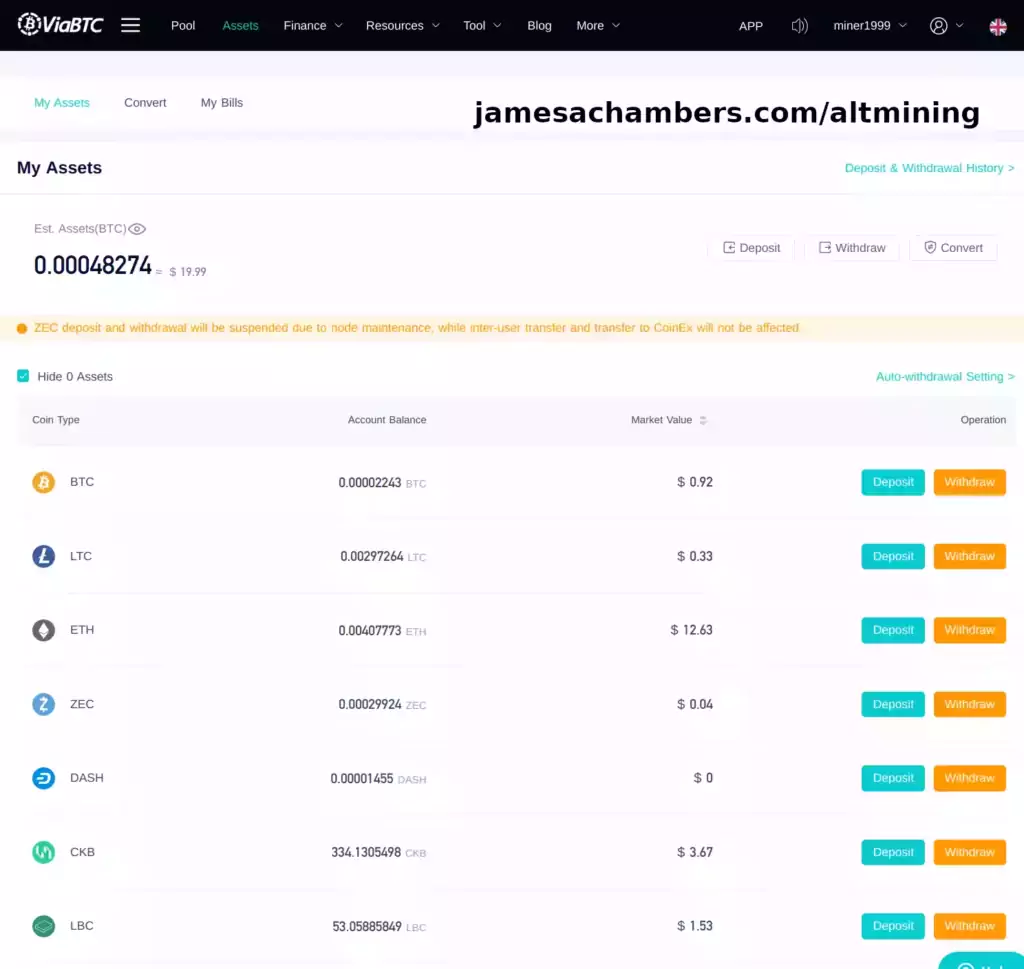 For quite some time now Kadena (KDA) has been topping the charts for mining profitability. There are many other altcoins though that are power efficient to mine including Starcoin (STC), Siacoin (SC), Kadena (KDA) and a few others. The power requirements for these miners are noticeably less even on the spec sheet.
For example the Goldshell STC-Box (Starcoin)* miner only uses 60W of power and is mining $1.37/day of profit at time of writing. That's not bad in this market for a miner that typically costs around 1000-1500 bucks and is outperforming ones that cost 10x that because of only using 60W of power (both in raw earnings depending on the miner and certainly in per watt earnings vs. nearly every miner). I have 7 of these (and my wife has a few as well) and I wish I had bought 30 of them and not bought a lot of the more power-heavy miners that I bought in the same time period.
The only problem with these coins is that they can be difficult to find good pools and exchanges that will accept them. Fortunately if you know the right places to go you can essentially take care of *all* of your altcoin needs with just a couple of pools and a single exchange.
Today I'll cover where I do all of my altcoin mining and where I exchange those tokens with minimal fees. Let's get started!
Best Altcoin Mining Pools
What is it that makes up the "best" mining pools? In my view it is ones that are:
reliable
have a lot of available tokens
have a decent overall hashrate
have low fees
have low minimum required withdrawal amounts
With that in mind let's get into some specifics with a couple of the largest altcoin mining pools.
ViaBTC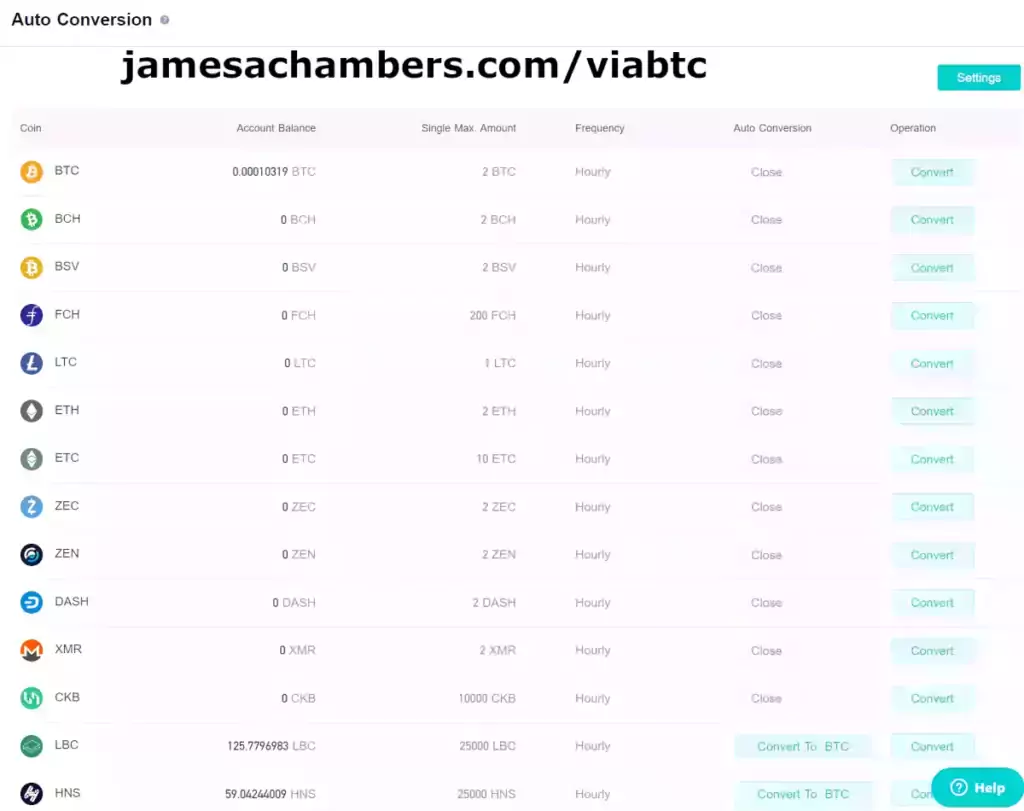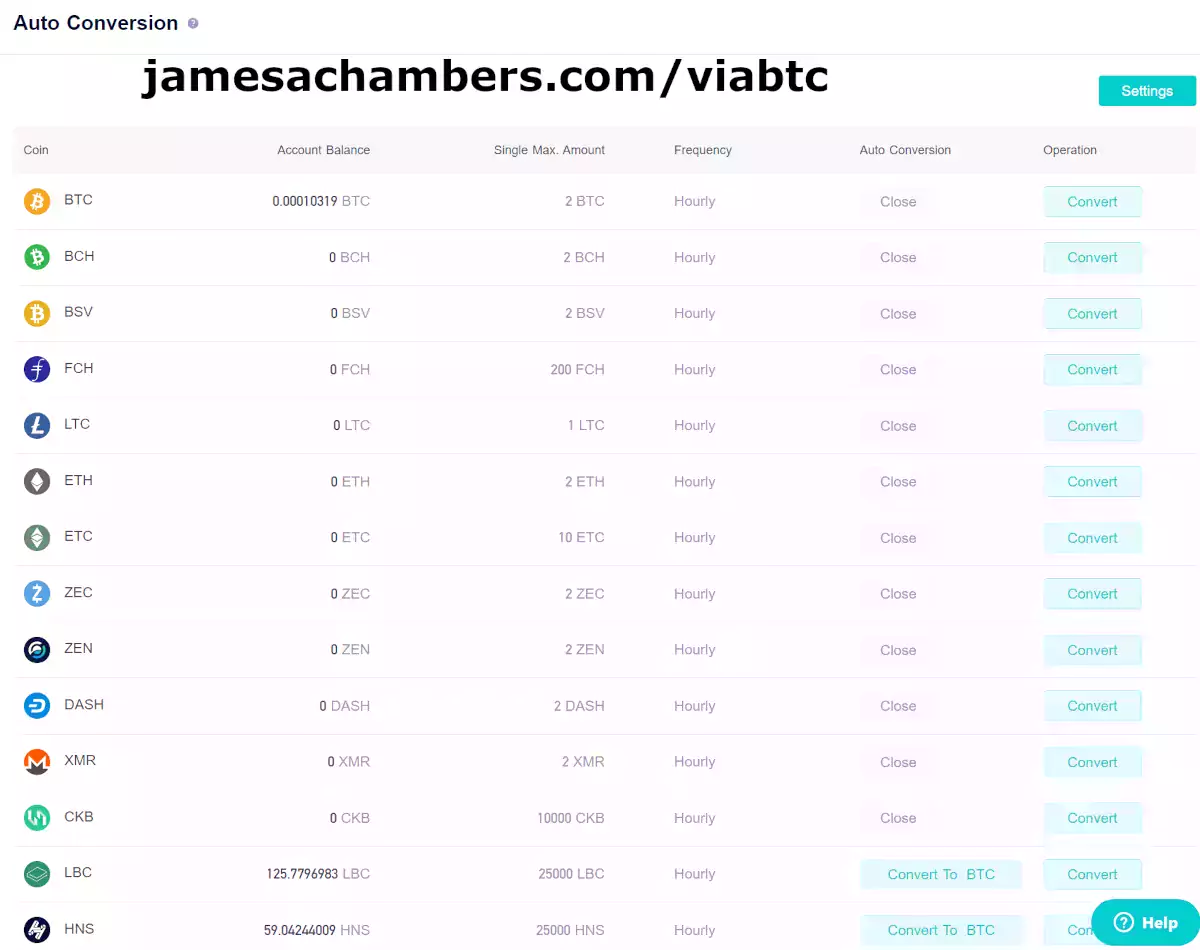 ViaBTC Official Link
Coin / Token Availability
BTC (Bitcoin) + EMC (Emercoin) + ELA (Elastos) + SYS (Syscoin) + NMC (Namecoin) Merged Mining
BCH (Bitcoin Cash)
XEC (eCash)
DCR (Decred)
LTC (Litecoin) + DOGE (Dogecoin) Merged Mining
ETH (Ethereum)
ETC (Ethereum Classic)
ZEC (Zcash)
ZEN (Horizen)
DASH (Dash)
CKB (CK Nervos)
LBC (LBRY Credits)
HNS (Handshake)
Positives
Offers free transfers with no minimums when paired with the CoinEx exchange
Has autoconversion features which can convert many altcoins to your chosen coin automatically without sending to an exchange
Selection of available altcoins is among the best
Negatives
Depositing not recommended (if anything goes wrong you may be waiting a very long time for it to get fixed, see my ViaBTC review for why)
Autoconversion has steep minimums on most coins — lower hashrate miners often won't hit these before the daily automatic withdrawal
Summary
ViaBTC was founded in May of 2016. They've grown to offer one of the most comprehensive lists of tokens available. I do most of my mining here now as there are only a handful of tokens that I mine that ViaBTC doesn't have.
To get the most out of ViaBTC you need a CoinEx account. In my ViaBTC review I did *not* have CoinEx with it at the time and I rated it as a poor to mixed experience. This is mainly because of the fees and the higher minimums for auto-withdrawal.
Pairing it gives you free transfers to CoinEx with no minimums whenever you want. This is a "killer feature" for sure as you can save an absolute fortune in fees by taking advantage of this. I even mine my Ethereum on ViaBTC and it's because the fees are so high for ETH. When paired with CoinEx this pool is an excellent choice and basically my go-to.
DxPool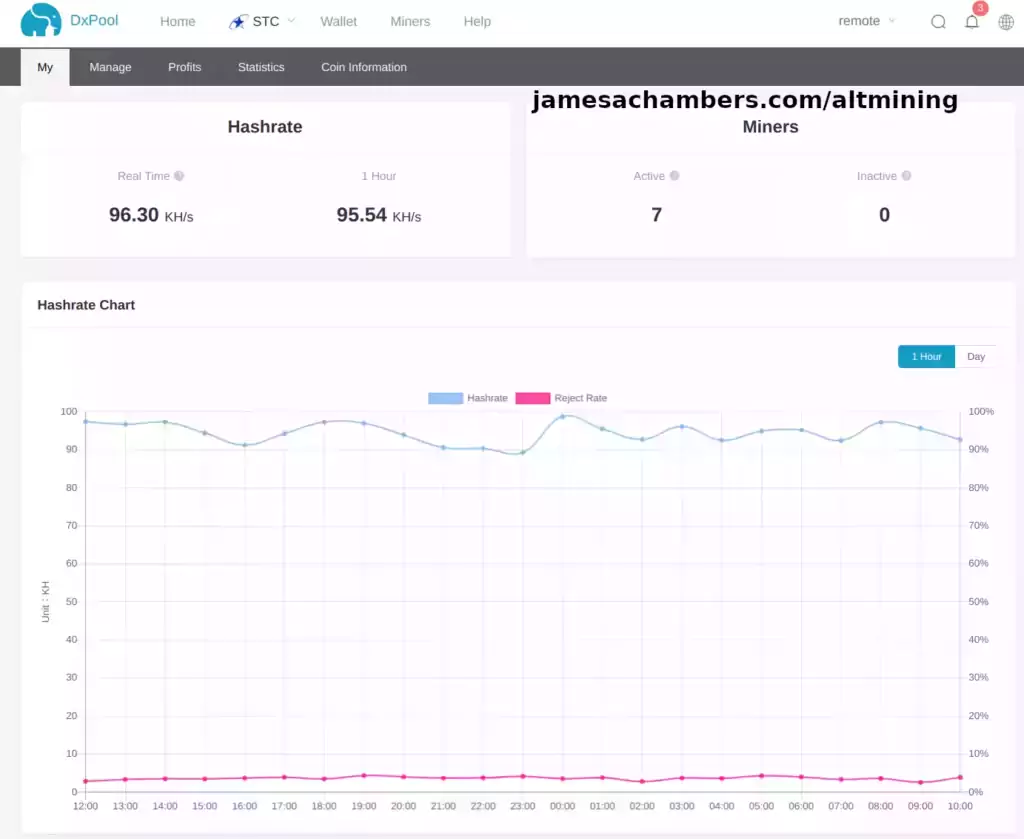 DxPool Official Link
Coin / Token Availability
LTC (Litecoin) + DOGE (Dogecoin) Merged Mining
XMR (Monero)
SC (Siacoin)
HNS (Handshake)
CKB (CK Nervos)
KDA (Kadena)
LBC (LBRY Credits)
STC (Starcoin)
DERO
Positives
Daily automatic withdrawals with low minimums for each coin
Has some harder tokens to find such as Kadena (KDA)
Negatives
Changing any of your withdrawal addresses locks all withdrawals (all tokens / coins) account-wide for 24 hours (meant as a security feature but can cause delays and headaches)
Summary
DxPool is a fantastic pool with a clean and fast GUI and daily automatic withdrawals with low minimums. For most coins even with only one or two ASIC miners you can get a daily payout (the exceptions being Starcoin and Siacoin). These have very little to no fees if you wait for the daily auto-withdrawal.
The reason they are able to offer this is if you are willing to wait for the 24 hour automatic-withdrawal the pool can combine all the miner's transactions together (batching / a batch transaction) which saves them a fortune on fees. Some pools pass on this savings to their miners and it's not a coincidence that both of the pools I'm covering today have this feature *and* pass on the savings to miners. It really adds up day after day after day.
My only complaint is if you change any of your withdrawal addresses your withdrawals will all be locked for 24 hours. That includes all coins even the ones you didn't change the address for. It also includes manual withdrawals. Once you change it your account is basically "locked" for security for that 24 hour period. This may or may not be appealing to you (it was a downside for me but not a hard one to manage).
Best Altcoin Exchange
CoinEx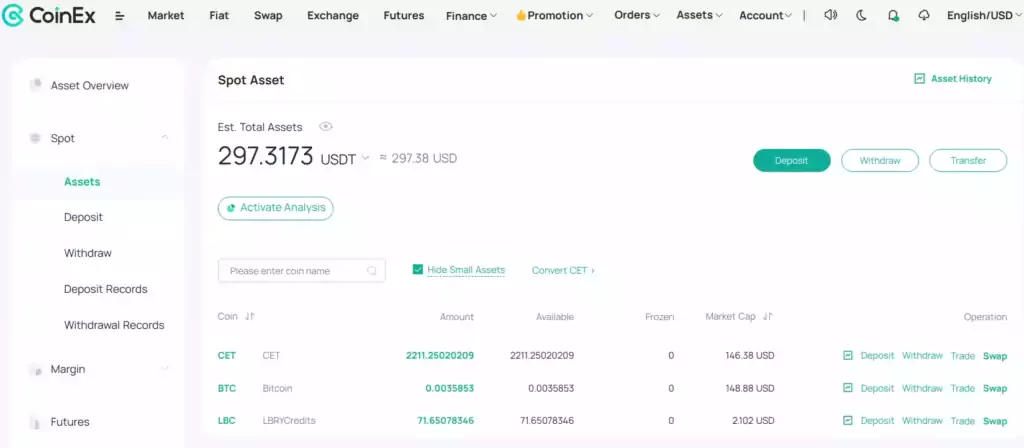 CoinEx Official Link
Positives
Fees are crazy low — even straight Bitcoin (BTC) is only a 0.0001 BTC withdrawal fee vs. Binance's 0.0005 BTC as a comparison
Has basically every token that will be listed on any exchange
KYC compliant
Allows exchanging tiny amounts of altcoins — amounts as little as $2.10 like in the screenshot above (my LBRY credits/LBC) qualify for trading / exchange
Negatives
Can sometimes have very long maintenance periods on certain tokens where they are not available to deposit / withdraw
Summary
CoinEx exchanges literally every token I mine and that is on any of the lists we've covered in this article. It is KYC compliant for those in the US and other countries with similar laws. I owed and paid state and federal taxes for 2021 based on my official tax forms from CoinEx.
They have pretty much every token that will be listed anywhere. CoinEx has long been known as having one of the best selections of tokens. It's a huge plus that they're friendly toward governments with very strict cryptocurrency laws. Fees are cheaper than anywhere else I've really seen as well.
I exchange literally 100% of all my mining tokens here into Bitcoin. From there you have a lot more options to exchange Bitcoin to whatever you want. If you have an exchange account anywhere else that is already linked with your bank account you can essentially treat CoinEx as a "crypto-only" exchange to get everything bundled and then use a different method to turn it into cash (if that's your goal).
Cryptocurrency to Cash
I personally use CashApp for the final step of turning crypto into fiat currency because it lets me deposit and sell Bitcoin (and only Bitcoin) and then instantly wire it to my account for an additional fee (depends on the amount, but it's usually $5-$8 for a few hundred dollars or so to give a rough idea). This hits my credit union account in about 30 seconds (it's a real wire transfer if you pay the fee).
I can typically turn cryptocurrency (including altcoins assuming they are in CoinEx to exchange or you send them there) into cash I can withdraw from an ATM in roughly 30-45 minutes using this method (all time waiting for the Bitcoin transfer into my CashApp deposit address to confirm on the blockchain essentially). You can also just let it do a normal ACH-style transfer and wait for free.
I always pay the wire transfer fee because the 0.0001 BTC fee to withdraw from CoinEx is already saving me more money vs. Binance's 0.0005 BTC withdrawal fee (and other exchange's comparable ones) that it still feels like a bargain and then there's no waiting / checking accounts over and over to see if it posted yet / etc.
Conclusion
Between ViaBTC + CoinEx + DxPool I have 100% of all of my mining pool needs and my exchange needs covered. I'm able to easily mine and convert every token that there is an ASIC available for essentially.
Let me know your strategy in the comments if you know of other ways to get ahead using various pools / exchanges!