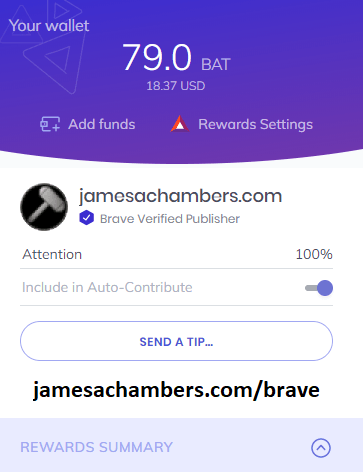 The Brave web browser is a really interesting experiment. For users it offers an out of the box privacy setup that blocks advertising/tracking. The browser's rendering engine is Chromium based so website loading/rendering/compatibility performance is comparable to Chrome.
Brave's idea of a newer and better internet is one where both users and sites are supported by using a cryptocurrency called the "Basic Attention Token". The idea of the BAT token is to have a currency that is used to pay people for their attention. This means users can watch ads from Brave and receive BAT cryptocurrency just for watching.
Sites and content creators are also given BAT tokens by Brave based on how long users are viewing or "paying attention" to their content. Users may also manually tip at any time with the built-in wallet.
In this article we will take a closer look at Brave and the BAT cryptocurrency and discuss.
Brave Browser
User Interface
The Brave web browser is based on Chromium. Chromium is the web rendering engine by Google used in Chrome so Brave very much looks/feels/performs as Chrome would.
Brave also implements key features that traditionally helped Chrome get to the #1 spot including cloud sync and support for extensions.
Let's take a look at the UI: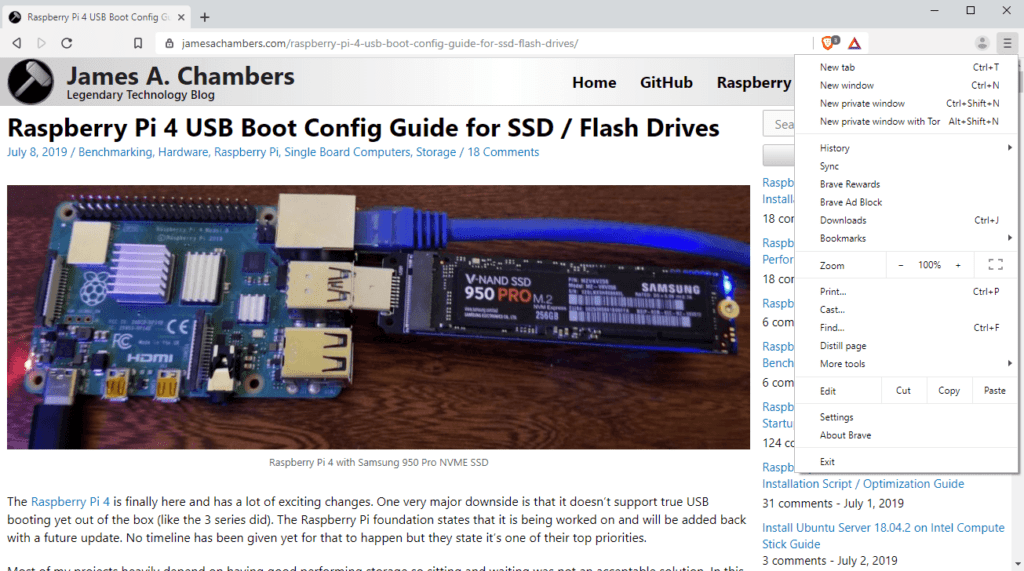 You can definitely tell it's Chromium based just from looking at it. It looks very much like any screenshot of Chrome would.
Ad Blocker
The ad blocker that Brave comes with is very good. It typically blocks more sites than a typical adblocker plugin installed on Chrome.
Here is the popup for the Brave ad blocker ran on a typical website: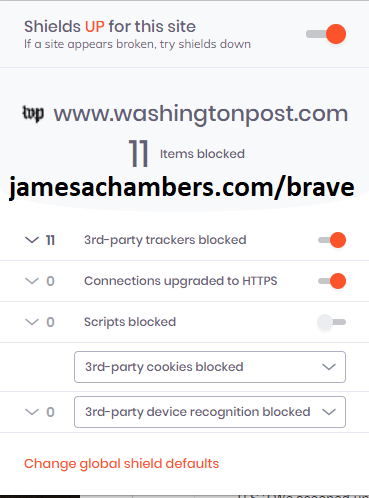 Script blocking is also available in the above dialog. You can enable this toggle to block all scripts on the page (basically like NoScript).
Built in Tor (.onion) Support
Brave has The Onion Router (Tor) included. This allows you to help mask your identity and also to access .onion sites (commonly called the dark web). This allows you to not have to use something like the "Tor Browser" application and can simply open a Tor window within Brave. The feature can be accessed by pressing Alt+Shift+N or by accessing it through the here: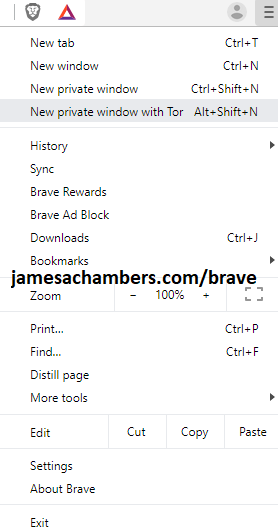 Bottom Line
The Brave web browser can be described as Chrome with an ad blocker / cryptocurrency wallet / Tor support installed out of the box.
This is very much a good thing because if it was some clunky browser knockoff missing key features (Edge for example) there's no way I would touch it. It basically has the good performance / compatibility / functionality of Chromium but without the privacy nightmare.
Brave Rewards
Brave allows you to earn BAT currency by viewing ads. You can set the frequency of ads from 1 per hour up to 5 per hour. The options dialog looks like this: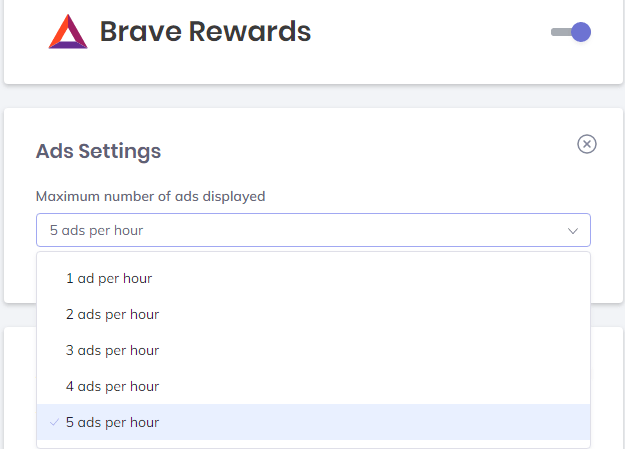 When an ad is available a small notification window pops up. If you click the notification the ad opens and you get a small amount of BAT. I clicked one and got 0.05 BAT even after closing the window about 5 seconds later. If you want to earn the most BAT possible change your ads per hour to the maximum (5).
After viewing one ad my rewards window now looks like this: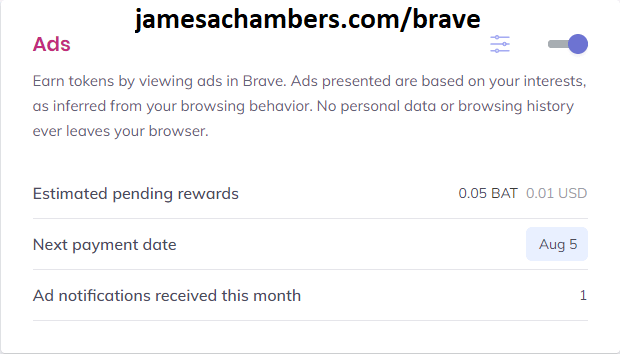 You can see that I now have 0.05 BAT earnings which will be paid out monthly. My next payment date is August 5th.
Note that Brave also sometimes does BAT airdrops you can claim which will also show up as a notification. These grant BAT to people using Brave browsers with the intention that you tip it to Brave content creators to help the project thrive.
Brave for Content Creators
Content creator platforms that can be supported by Brave include YouTube, Reddit, Twitch, GitHub and others: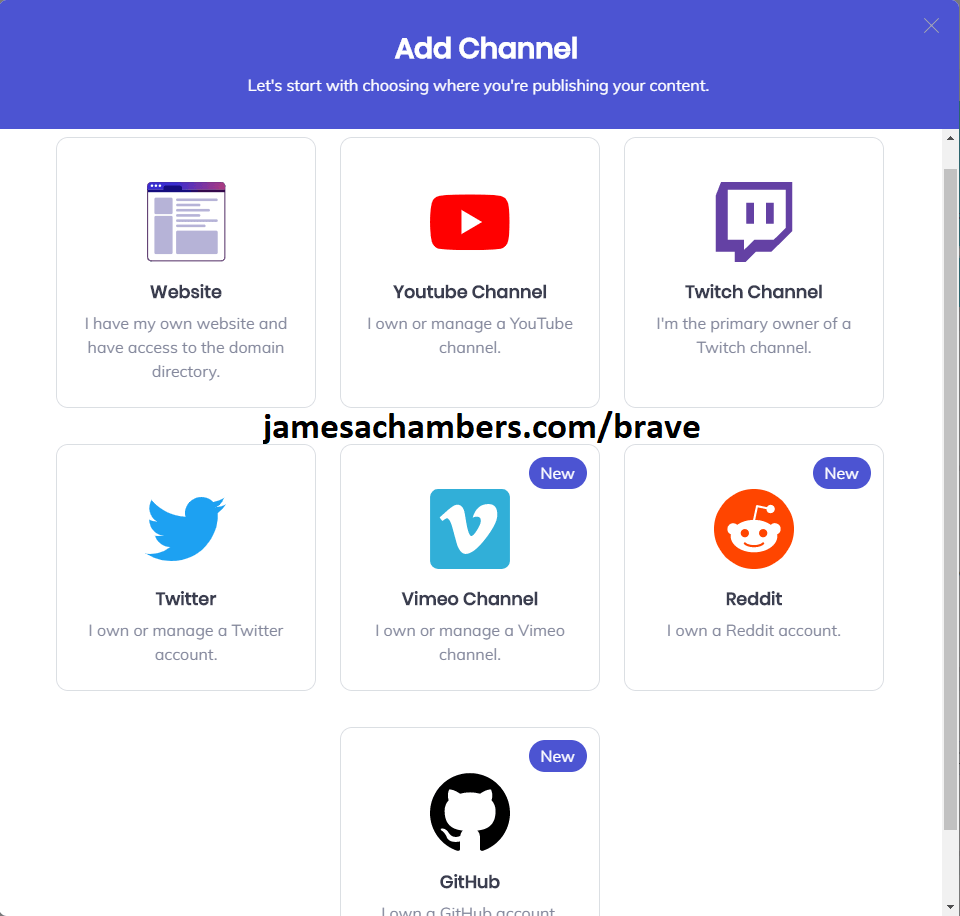 There is a different verification process for each type to confirm that you indeed own the account in question. Until a creator has verified the tips from Brave remain on a wallet that is set aside for the creator until they verify they are the site/account owner. Verification is usually nothing more than authorizing the account in question to be accessed by Brave so they can verify you are the owner.
Once verified they can claim any outstanding BAT that has been earned/donated to them.
Here is an example of how a site that is not verified will appear in Brave: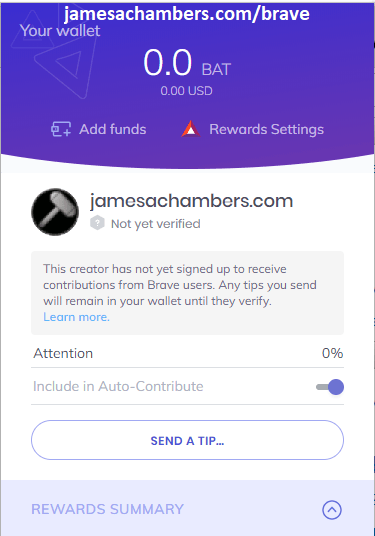 Once you have verified as the content creator after 24-48 hours Brave users will now see the blue checkmark next to your site's name. This will show a blue checkmark next to your name and make you eligible to receive automatic attention payments and tips from Brave users.
Now that you are verified the wallet tab will look like this: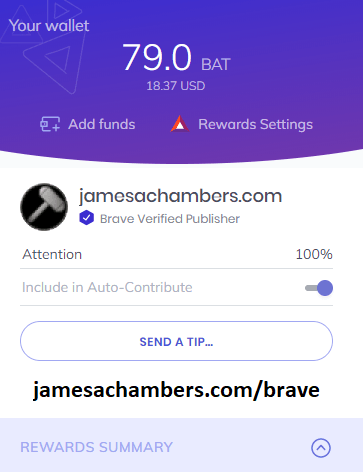 We can see now that auto-contribute is now automatically enabled. This means Brave users that visit your content and have auto-contribute turned on will make a small contribution of BAT to you. Auto-contribute pays out a lump sum (default is 10 BAT) to all sites proportionally to how long you were viewing their content. If a user spends a lot of time watching your content this could end up being a large percentage of their monthly payout. If they only spent a very short time it will be a very small payout.
Tips are separate and will be sent to a wallet for the content creator to claim in the future by verifying their ownership of the content creation account / site.
Basic Attention Token (BAT)
The basic attention token is not a coin that you can mine like Bitcoin. It is issued by the Brave entity and can be readily exchanged for Bitcoin, Ethereum, Litecoin and others on various cryptocurrency exchanges.
Brave also supports sending several cryptocurrencies right to your Brave wallet (they will handle the conversion for you automatically). Here is what the deposit/exchange page looks like: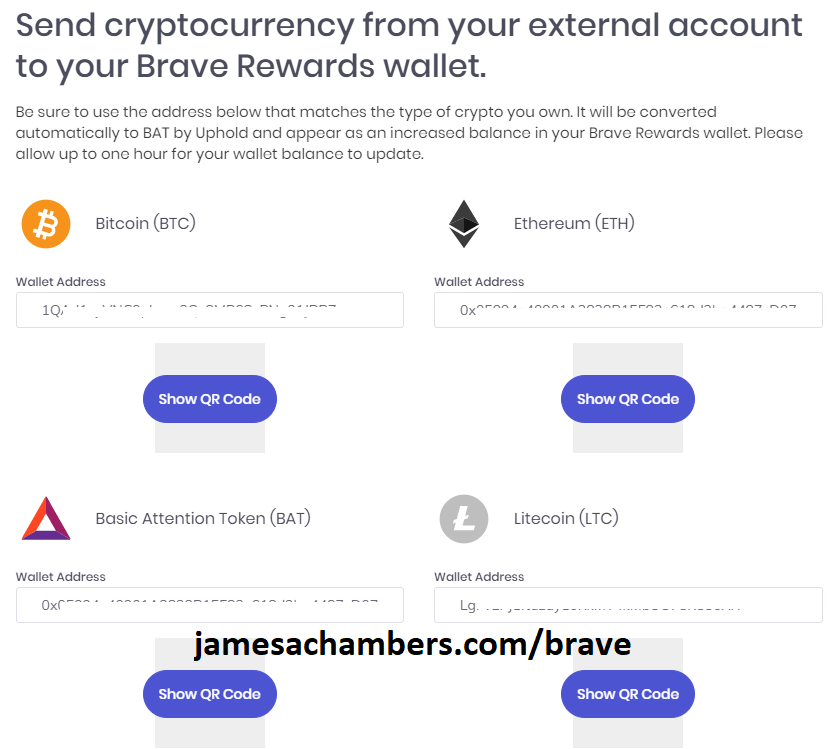 Learn more about the Basic Attention Token (BAT) from the the official Basic Attention Token (BAT) web site.
Tipping
One of the awesome things about having a cryptocurrency wallet built into this experience is it allows you to directly tip creators who are making content you enjoy and want to support. If you have ever played with tip bots on Reddit or other platforms this is actually a pretty fun concept and way for a creator to monetize a website without having to sell traditional ad space.
Tipping someone in Brave is very easy. You click the icon on the far right side of the address bar with the blue checkmark on it (which indicates that the creator has signed up with Brave to receive tips) and can select the amount of BAT you want to send from your built in Brave wallet.
The tipping process looks like this: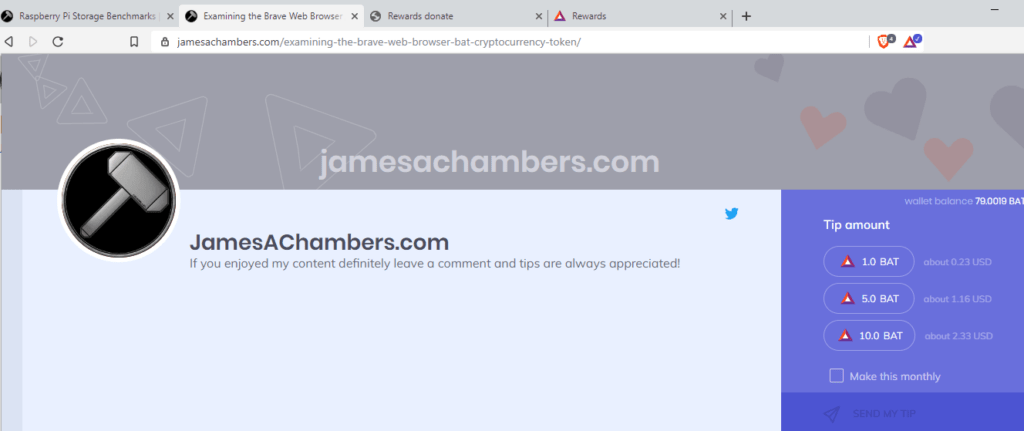 You can see in this window that I have wrote a personalized message to my users on my site's donation screen. This is a feature you get once you verify your site/account's ownership and is a really nice touch.
Conclusion
Brave offers an improved out of the box Internet browsing experience for other browsers. It is preconfigured for ad blocking, social website blocking, built in Tor and other very nice security features that normally require several additional plugins/programs to access.
For content creators Brave is very exciting as it offers the prospect to get funding from alternative places than advertising with Internet giants. I would personally love for the users who visit my web site to fund it automatically from their browser to be the way I am able to monetize my site. Brave isn't there yet but it's heading in that direction and gaining quickly in popularity.
Because of me sharing the Brave vision of a better way to fund content creators online I am supporting the Brave project and have registered jamesachambers.com as a Brave publisher.
If you would like to try Brave use this link to download it and check it out today!